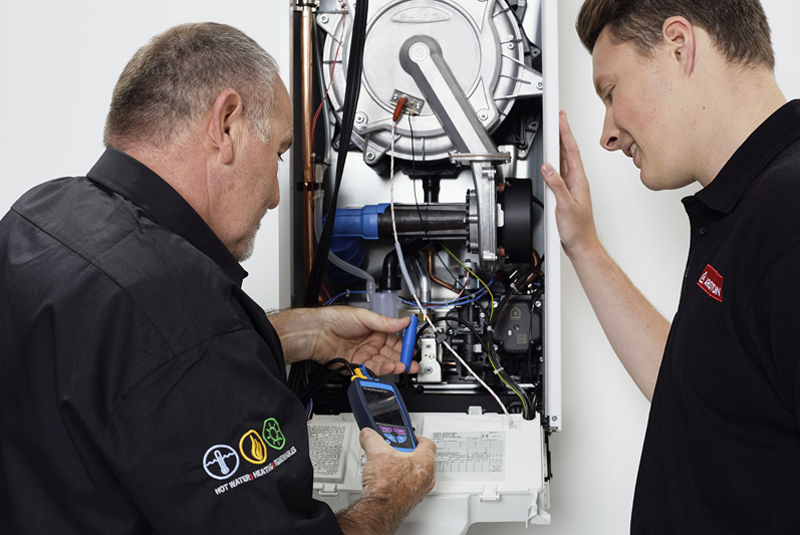 Alex Boweren, Product Manager at Ariston, explores the latest advances in condensing boiler and controls technology – and looks at how the key components work together to maximise reliability and efficiency.
As heating season begins, boilers will be firing up all over the UK. With homeowners being more frugal than ever before, installers should be making their customers aware of the long-term savings offered by the latest boiler technology. With heating accounting for approximately 60% of home energy bills, an efficient boiler can make a big difference. After all, the Energy Saving Trust (EST) states a new boiler could save a household an average £350 per year. Plus, research published by insurers GoCompare revealed that installing a boiler (at the average cost of £1,995) could raise the value of a property by 4% (an estimated £7,000).
Modern condensing boilers offer efficiencies of around 93%, whereas non-condensing models pale in comparison, only providing levels of 75% or less. One of the key components in achieving this is the heat exchanger which, in condensing boilers, thanks to its larger size, ensures excellent levels of heat recovery and efficiency.
Heat exchangers have to work extremely hard, as they are subjected to thermal and mechanical stresses, while having to operate in a harsh environment. They also have to contend with the inconsistent quality of system water – which can contain dissolved oxygen (a cause of iron oxide) or black particles of magnetite that are at the final stages of corrosion. In addition, as water is constantly passing through (and coming into contact with) the component, the material it is made from is another crucial factor.
Many modern heat exchangers are made from stainless steel, although aluminium versions are obviously an option. Stainless steel is the material of choice as it performs exceptionally well in a wide range of pH values, offering a high level of resistance against corrosion – in turn reducing reliance on chemical water treatments. Such durability ensures higher levels of efficiency without the need for extensive preventative maintenance.
A heat exchanger's material can also affect the lifespan and running costs of a boiler. Now, although boiler manufacturers willingly publicise the efficiency levels of their products, careful thought is still required when considering overall lifetime efficiencies. As a result, extensive research and development has been conducted to ensure stainless steel heat exchangers deliver consistent levels of heat, while ensuring emissions and end users' energy bills are kept to a minimum.
Designing and manufacturing heat exchangers from one continuous coil, with wide waterways (as utilised in Ariston's own XtraTech heat exchanger), allows water to pass through quickly and effectively. Delivering a better flow rate in this way reduces the risk of blockages from debris, further enhancing reliability.
Of course, condensing boilers consist of more than a heat exchanger alone, with each part integral to its functionality and efficiency. Yet another key consideration is the overall layout and construction of the boiler as a whole; while it's true the latest models have been designed for optimum performance, there is nothing more frustrating for an installer if a boiler transpires to be cumbersome to work on, or difficult to lift and connect. If components have been put too close together, this can restrict access to other areas of the boiler – which can affect both installation and servicing.
Consequently, gas engineers should be looking at fitting lightweight boilers, with a strong, durable chassis, free from sharp edges. Models that can be easily accessed from the front will also prove beneficial in terms of commissioning and servicing, as well as circumstances requiring repair.
Boilers can also be complemented by the latest heating controls, which can further enhance a system's efficiency. In fact, research carried out for the BEAMA Heating Controls Group revealed that installing effective temperature controls as part of a home heating system has a significant effect in minimising energy use. This study concluded consumption can be reduced up to 40% when the right controls are present. However, the organisation also claims there are around 11 million homes without suitable heating controls (including thermostats), with occupants having to turn their boilers on and off when they get either too hot or too cold.
It is also important to consider the right controls in accordance with 'Boiler Plus', as this 2017 requirement sets out the minimum performance standards for domestic gas boilers of 92% ErP. Furthermore, it stipulates all those installing new combination boilers in England must include flue gas heat recovery, weather compensation, load compensation or smart controls with automation and optimisation functions as part of a heating system.
Fortunately, modern heating controls are now able to 'talk' to one another, resulting in improved efficiency, accuracy and economic benefits for end users. Smart heating controls (including our very own Ariston Net) allow boilers to communicate with other products in our portfolio, simplifying integration with a range of devices and energy sources, as well as optimising energy consumption. In addition, advances in virtual home assistant technology now enables homeowners to adjust their heating via a series of simple voice commands.
This evolution in controls not only allows end users to 'remote control' their heating systems over a secure Wi-Fi network via a mobile app, there is also the added benefit of remote diagnostic functionality; this ensures any faults are immediately identified, as well as followed by precise remedial advice for the installer from the manufacturer.
Some controls even offer advanced functions such as energy management and bespoke weekly/holiday modes. There are also devices capable of managing multiple heating zones, as well as boasting features such as learning technology, GPS data gathering and online weather monitoring.
So, as heating technologies continue to advance, it is important for installers to select products offering optimum levels of quality, efficiency and controllability. Doing so will then ensure their customers benefit from lower fuel bills, as well as a high quality, reliable and long-lasting heating system.
For more information, visit, www.ariston.com/uk.