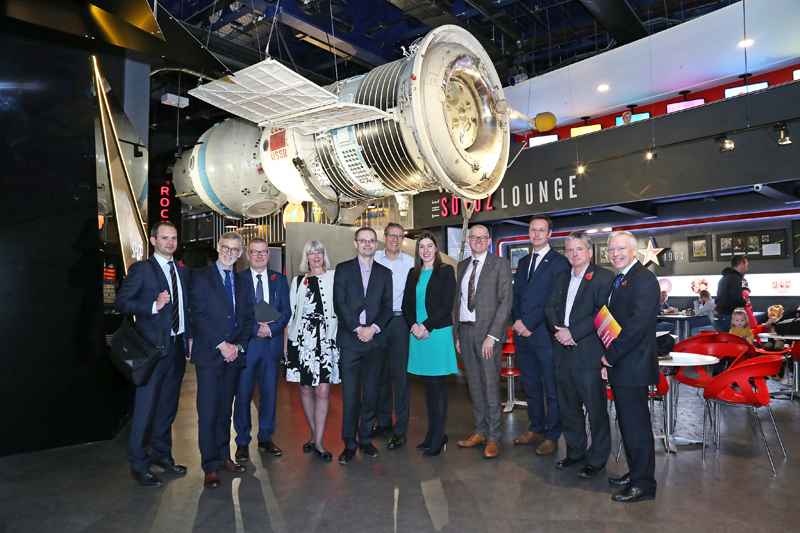 Delegates recently gathered for EUA's 'Gas 2018: The Next 50 Years' event, which was held at the National Space Centre in Leicester. Kelly Newstead reports.
Welcomed by EUA Chair, Tim Roff, attendees anticipated a day dedicated to what the future of gas might hold in the year 2068, 50 years from today. He was joined by speakers such as Calor Gas' Paul Blacklock, Head of strategy and Corporate Affairs; Carl Arntezen, Chief Executive Officer for Bosch; as well as representatives from the National Grid, OFGEM, Catapult, Cadent, DNV GL and Centrica.
Kicking off the day was Chris Clarke, Director of Energy at Wales & West Utilities, who detailed the events that were prominent 50 years prior in 1968. This included the Concorde preparing for its first flight, the North Sea gas conversion programme starting in Burton-on-Trent and, rather fittingly, Apollo 8 orbiting the moon.
Chris outlined what the future for gas could look like in 2068 by predicting what impact new technologies that we have today, could have in the future. This included electrification of the gas grid, district heat networks, decarbonising the gas grid and, arguably the most important, hydrogen – the potential rocket fuel for the gas industry.
Whilst many of the speakers had alternative suggestions for what the future of gas could look like, nearly all seemed to feature the idea of hydrogen. Chris stated that: "17 hydrogen cities could decarbonise 30% of heat by 2050." With the gas industry so heavily focused, and government targets set to ensure that 'by 2050 the EU should cut greenhouse gas emissions to 80% below 1990 levels', it was not surprising that the role of hydrogen centred around most speakers' presentations.
Andy Lewis, Future Role of Gas Innovation Manager for Cadent, also pinpointed hydrogen as a major player in the future of gas. He outlined the benefits, which included low carbon fuels, especially in transport, low carbon for new developments and the fact it can be blended into the gas network.
Andy championed a hydrogen substitute, but one used in tandem with Carbon Capture and Storage (CCS) technology. CCS can reportedly capture up to 90% of the carbon dioxide (CO2) emissions produced from the use of fossil fuels in electricity generation and industrial processes, preventing carbon dioxide from entering the atmosphere. This could help larger manufacturing companies, as well as the transport industry, significantly reduce their carbon emissions. And, with the political landscape moving quickly in the direction of advances that favour hydrogen as an alternative, such as All Party Parliamentary Groups, it shows that the future of gas could be preparing for take-off in this direction.
With the changing environmental and political landscape, alongside the introduction of new technologies, the future of gas could be a hard one to predict. But, with many believing that electrification of the gas grid could be too costly and disruptive, hydrogen may well provide the answer, with suggestions that it could be included into the existing gas grid for an easier transition. Of course, end users will need to be kept in mind, with any significant changes ultimately affecting the heating industry and its customers.
However, just like missions to space and the moon once seemed a long way off, the introduction of new gas technologies may be closer than we think. Installers will therefore need to keep abreast of any incoming changes, and think about what this might mean for their job roles going forward.