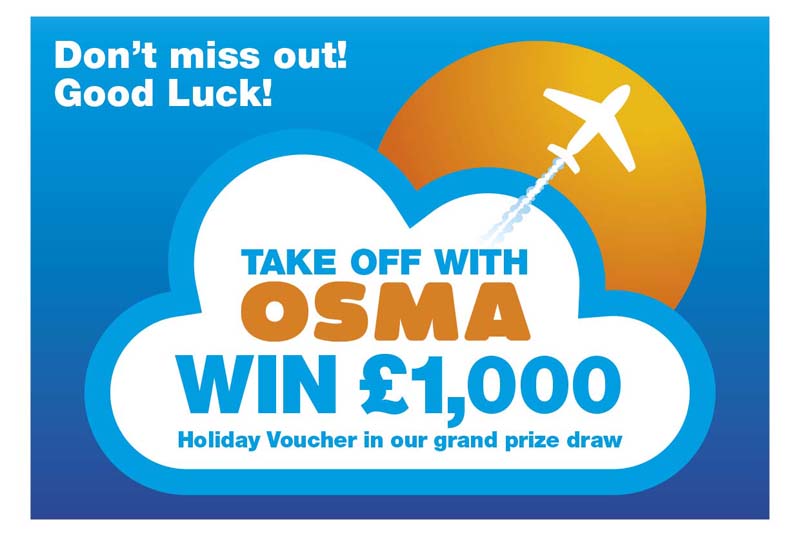 Osma has officially launched the 2019 edition of Take Off with Osma – its competition offering exclusive prizes for installers.
This year, participants can win up to £500 worth of holiday vouchers every week from 7th May to 30th June, with one lucky jet-setter winning the grand prize of a £1,000 voucher.
Installers can be in with a chance of winning by heading into a stockist before 30th June and purchasing any above or below ground drainage product. They will receive a ticket to claim an instant prize of a free Osma sports water bottle and automatically be entered into the weekly prize draw. As well as the holiday vouchers, there are runner-up prizes up for grabs each week in the form of an Osma cabin case, which comes complete with lots of useful holiday items such as waterproof bum bags for your mobile, luggage tags and selfie sticks.
Donna Rostovsky, Marketing Manager at Wavin, said: "Now in its third year, our Take Off with Osma competition is the perfect way to give back to our loyal customer base with the chance to win some great prizes. We wouldn't be where we are without our customers and merchants so this is just our way of showing our immense gratitude. We can't wait to see who wins the prizes!"
To let Osma help you take off on your perfect getaway, collect a ticket at your local branch and register online for an instant prize win at www.takeoffwithosma.co.uk