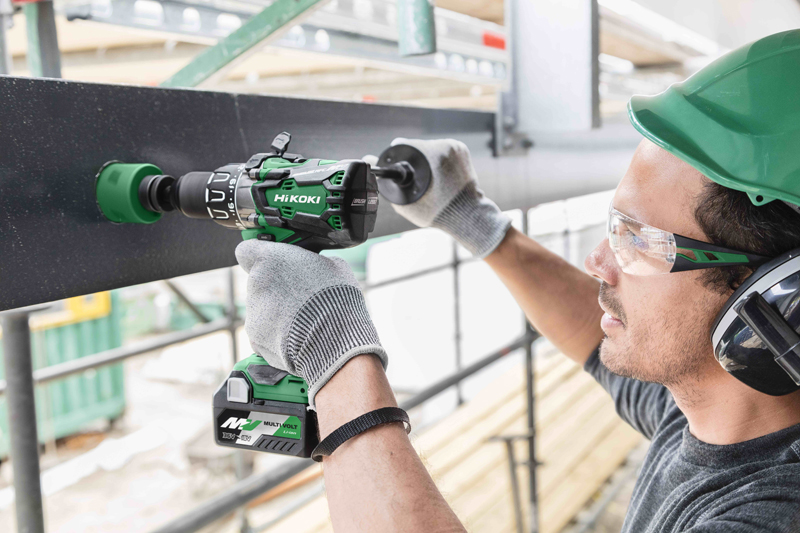 To kick off the New Year, we've got three combi drills with Multi Volt batteries, and 10 swag bags up for grabs from HiKOKI!
Today's power tool users now expect reliable, enduring tools with extended warranties and performance levels saving valuable time, money and energy. To keep up with this demand, manufacturers, such as HiKOKI, continue to improve value and raise performance standards for installers.
The most startling change has been in the cordless power tool market, believes the brand. HiKOKI recently conducted market research in the form of opinion exchanges, surveys and investigations into its customers' needs. Over 250 tradespeople in the UK engaged in a survey, examining their use and preference of cordless power tools. Some of the major findings were as follows:
84% of power tool users would consider going completely cordless
Over 50% of all respondents have more cordless than corded tools in their toolbox or van
82% of professional power tools users turn to cordless tools to 'get the job done – anywhere'
Over 50% of tradespeople prefer cordless power tools because of the added safety they offer – with no cords or mains power onsite
13% of professional users had worked on "cordless only" sites, where mains powered tools are not allowed
New battery technologies, combined with highly efficient brushless motors are driving this move to cordless. Innovation will likely not stop for the foreseeable future, and HiKOKI believes the percentage of tools carried by tradespeople will continue to be weighted towards cordless. For example, the HiKOKI Multi Volt BSL36A18 36V battery packs have more power than similar sized 18V battery packs – but dimensions and weight remain almost the same, so the 36V battery packs can be used with a wide range of 18V class devices.
Using the UC18YSL3 charger, the 36V battery packs can be fully charged in just 32 minutes. In addition, the battery packs have a long service life: they can be charged up to 1500 times without any appreciable impact on performance. The energy available in the battery pack is displayed on the battery itself through a four-stage charge indicator. It is this kind of speed, meaning installers will never run out of charge, which is driving our move into the cordless age, says the company.
How to enter
PHPI has teamed up with HiKOKI Power Tools to offer three lucky readers the chance to win a DV18DGL Combi drill with Multi Volt battery. In addition, 10 runners up will have the chance to get their hands on a HiKOKI Swag Bag, full of goodies!
For your chance to win, simply enter your details below before March 31st 2019: