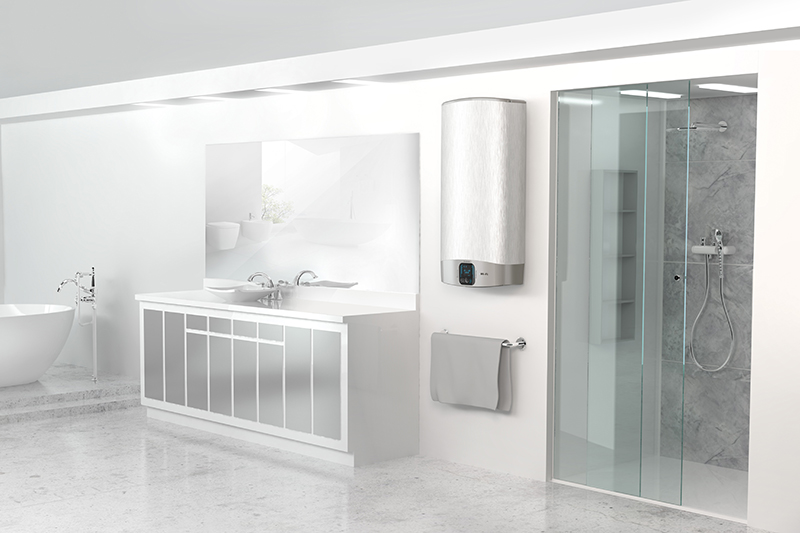 New for 2020, Ariston has added the Velis Evo and Velis Evo Wi-Fi to its growing range of electric storage water heaters. Boasting an ultra slim twin tank design (with only 27cm depth) for up to 16% more hot water availability, these technologically advanced units are available in 1.5kW and 3kW models with capacities of 45 and 80 litres.
Designed for use in residential apartments, studios, holiday homes and glamping pods, the water heaters are said to provide the perfect combination of comfort and premium Italian design, while they offer rapid reheat times and are shower ready in less than 30 minutes.*
The flagship model in the range is the state-of-the-art Velis Evo Wi-Fi – the only electric water heater of its kind currently on the UK market with Wi-Fi controllability, thanks to the Aqua Ariston Net app. The app enables users to shuffle through modes and turn the unit on remotely for a hot shower at the perfect time. Shower-ready alerts are also displayed in the app, whereas Velis Evo units indicate this on a built-in touch screen.
The range is further enhanced by Ariston's energy saving 'ECO EVO' function, as well as anti-legionella and ABS Safety System features. Units also have an easy to configure, smart 'blue tech' touchscreen, and are supplied with an unvented kit, as well as a five-year manufacturer's warranty as standard.
For more details, visit www.ariston.com or follow @AristonUK on Twitter.
* Shower ready in less than 30 minutes applies to Velis Evo Wi-Fi only
How to enter
For the chance to win, simply answer the question below and enter your details before midnight on May 31st 2020:
What are the capacities of the Velis Evo range?