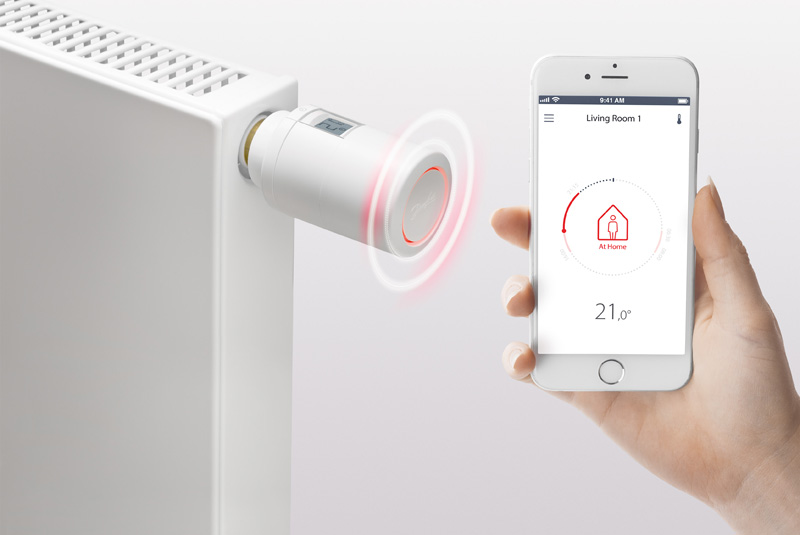 The second-generation Eco radiator thermostat from Danfoss has arrived. PHPI reports.
The new Eco is designed to provide effortless heating control using the Danfoss Eco App to program individual radiator thermostats via Bluetooth technology. Created to offer an easy and cost-effective transition to intelligent heating for homes and small commercial premises, it's said to ensure optimum comfort and potential savings of up to 30% on heating bills. In addition to the energy saving benefits for end users, Danfoss Eco is purpose-designed to be fast and simple to install by a professional in new and replacement applications.
The intuitive Danfoss Eco App makes it easy for end users to program the heating to suit their daily schedule and keep rooms comfortably warm when occupied, and cooler when empty. Having downloaded the App and activated Bluetooth, Eco thermostats can be programmed individually from a smartphone from a distance of up to 10m: a red light is illuminated on the thermostat to indicate successful connection. Alternatively, Eco can be adjusted manually using the turn-wheel option.
As a further benefit, the new Danfoss Eco radiator thermostat is compatible with 90% of all radiator valves. This makes it an ideal solution for upgrading existing installations, either as a replacement on all radiators for maximum energy savings, or starting with just the one. And on top of all its innovative features, Danfoss Eco is also said to boast best-in-class noise performance at less than 30dBA.
According to Marketing Director, Bjorn Sejr Nielsen, the second-generation Eco is the perfect plug-and-play solution for all kinds of domestic and small commercial radiator heating systems. He comments: "Together, our new Eco radiator thermostat and App enable end users to experience some of the key benefits of intelligent heating for a relatively low investment cost."
Three sets of Eco TRVs to be won
To celebrate the launch, we've teamed up with Danfoss to give you the chance to win one of three sets of Eco TRVs. To be in the draw, and for more information, simply fill in your details below before November 15th 2018: