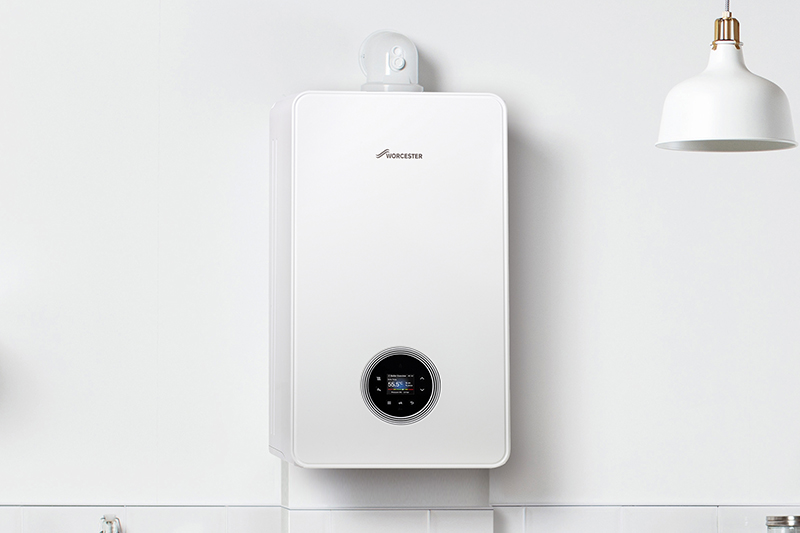 Worcester Bosch has announced the launch of its Greenstar 4000 boiler range. Replacing the Greenstar i series, the 4000 builds on the tried and tested features of its predecessor while receiving upgrades to its appearance and performance.
Key improvements include increased ease and speed of installation, commissioning and servicing, alongside improvements in efficiency and control for the user. Encompassing features from its range-topping 8000 Style, informed by installer insight and featuring real advances in siting flexibility the company has aimed to make the popular Greenstar i even better.
From ease of installation and access…
The Greenstar 4000 has been designed with a 'SimpleSwitch' in mind, to ensure that current Greenstar i owners can replace their i Junior, Si or i system boiler with a 4000 thanks to the same fixing points, pipe centres and flue to valve distance.
By matching its predecessor models, the 4000 can be installed with minimum time, effort or re-work. The wall-frame also provides a pre-piping option for all seven combi pipe connections before the boiler is hung.
The Greenstar 4000 adopts both the modern, sleek look and feel and practical design from the Greenstar 8000 Lifestyle range. With both the front and right-hand side panels being removable, Worcester Bosch has made it easy to access the internal components of the boiler for maintenance and servicing needs.
…to planet-friendly packaging
With the Greenstar 4000, Worcester Bosch has made a concerted effort to make its packaging as planet-friendly as possible, while ensuring product protection during delivery.
The company has removed all polystyrene packaging and replaced it with a household recyclable honeycomb cardboard. All plastic bags have been removed and replaced with compostable bags which can be placed in garden waste for composting, used as a food waste bin bag or disposed of in normal household waste.
To ensure that the packaging is still protective the company has undergone intense transport tests to ensure it is equally as robust and secure as previous packaging.
"Fall in love" with the Greenstar 4000
Martyn Bridges, Director of Technical Communication and Product Management, commented: "The Greenstar 4000 series builds upon everything people love about the Greenstar i with improvements to make it more accessible and attractive to installers and homeowners alike.
"From simplified servicing and high-tech control systems to quieter operation and increased efficiency we hope that installers fall in love with this boiler just as much as the Greenstar i that it replaces."
For more information on the Greenstar 4000, visit www.worcester-bosch.co.uk/4000
To celebrate the launch of the Greenstar 4000, Worcester Bosch is asking for its members, associates and installers across the UK to join the Worcester Bosch Greenstar 4000 Relay Strava Club.
Aimed to get the industry moving as much as possible the target is a collective 4000 miles to be travelled between now and 31st July. There will be monthly prize draws as well as a free Greenstar 4000 boiler on offer as a prize for an installer at the end. More information can be found at www.strava.com/clubs/WB4000