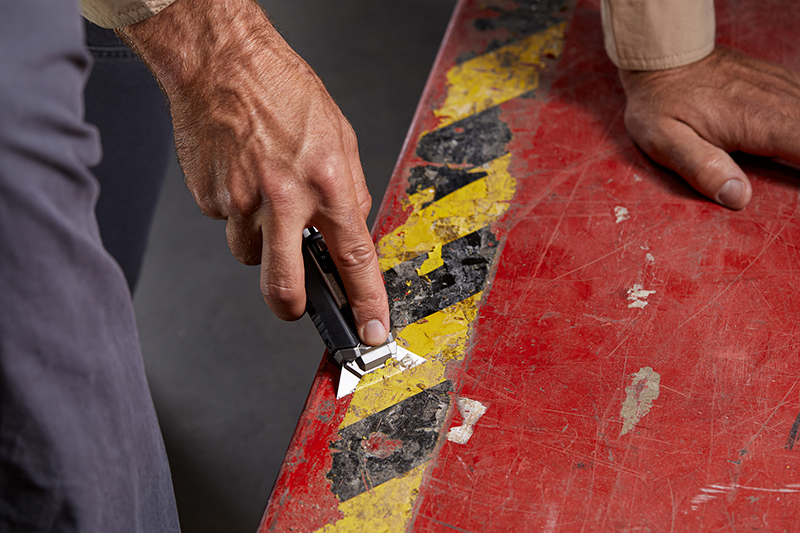 ToughBuilt has extended its range with the launch of the Scraper Utility Knife, described as a world first which all but redefines the term 'multi-purpose'.
The patented product features advanced technology which allows users to quickly flip between a utility knife and a scraper with the flick of a thumb.
"The ToughBuilt Scraper Utility Knife allows contractors, trade professionals and DIY enthusiasts to carry less – and do more," comments Matthew Handley, Head of Marketing at ToughBuilt (Europe).
"As a utility knife it can be used to cut all manner of materials whilst as a scraper it can be used to remove paint, sealants, putty, adhesives and labels from various surfaces including windows, mirrors and tiles."
Aside from its versatility, the ToughBuilt Scraper Utility Knife offers a number of other benefits. These include a rugged handle constructed from metal for maximum durability as well as a rubber grip for greater user comfort over extended periods of time. In addition, the ToughBuilt Scraper Utility Knife employs a quick change system which enables blades to be changed rapidly and without the need for any kind of specialist tool.
The Scraper Utility Knife is only compatible with ToughBuilt's Universal Blades – which will also fit the majority of retractable and fixed blade knives on the market. Each knife comes supplied with five replacement blades and blades can be purchased separately.
For added convenience, the ToughBuilt Scraper Utility Knife also features a carry loop and an in-built paint can opener.
Plus, like all ToughBuilt products, the company's Scraper Utility Knife comes with a two-year guarantee as standard or a 25-year guarantee if users register their purchase. This guarantee applies to the hand-tool only and does not apply to the blades.
Matthew Handley adds: "Everyone at ToughBuilt is genuinely excited about the introduction of the ToughBuilt Scraper Utility Knife. Its global launch comes after many months of rigorous research, product testing and subsequent refinement.
"The knife's intelligent design means it very much shares the same DNA as other products within our range and we're confident it will be very well received across a number of different and diverse markets."