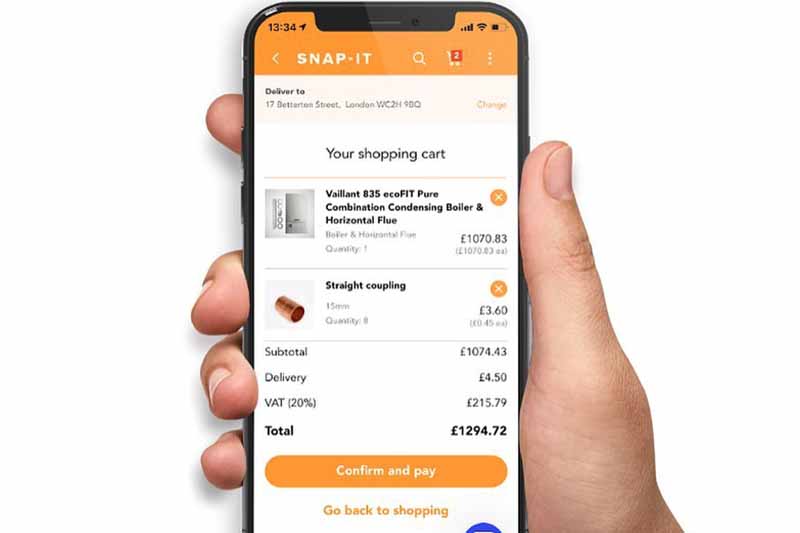 Snap-It is an on-demand delivery service that enables tradespeople to order spare parts and materials at the click of a button; digitising the industry.
From valves to pumps and even boilers; Snap-It's mobile app allows the user to instantly purchase over 60,000 plumbing and heating parts from 50+ retailers.
By partnering with wholesalers and specialist independent stores, Snap-It can save an average of 2+ billable hours per day with potential increased earnings of up to £47,000 per year (based on one person earning £90 per hour, working 260 days/year).
During his 15 years as a plumber, Snap-It Founder Viktor Muhhin recognised multiple challenges for tradespeople and customers. His team wasted hours every week locating or waiting for spare parts, resulting in lost revenue and ultimately longer job completion times. Snap-It has changed that.
Snap-It helps installers improve efficiency and increase productivity, resulting in a higher rate of completed jobs and increased annual earnings. An average of 2+ billable hours per day can be saved by eliminating time wasted driving to source parts, finding parking or getting stuck in traffic and, of course, queuing.
With deliveries made within 30 to 40 minutes, Snap-It's technology results in quicker repairs, improved customer service, reduced costs, and happy customers.
Snap-It currently operates within the M25 with plans to expand to other key cities across the UK this year.
Download links
iOS
Google Play