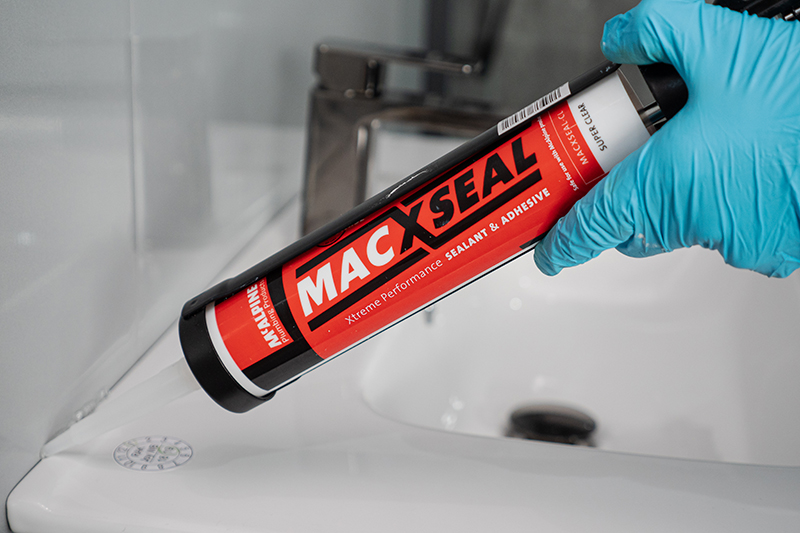 McAlpine Plumbing Products has launched MACXSEAL – the only sealant and adhesive tested and approved for use on its own products.
MACXSEAL does not cause any degradation of plastic plumbing products, unlike some products which are acetoxy, causing plastic to splinter and break. This breakdown leads in turn to stress cracking and leaks.
"Our reputation is built on not compromising on the quality of our products. We test them to destruction. We decided to test sealants and adhesives, to see what would work best with our range – and that's when we decided to invest in our own," explains Ross McAlpine of McAlpine Plumbing Products. "MACXSEAL carries the McAlpine name for a reason, it's a sealant you can trust to get the job done."
MACXSEAL's formula sticks, seals and fills without damaging McAlpine products, and bonds, cures and seals quickly. It is designed to work fast, has a high strength grab and is resistant to UV radiation and general weathering. It is available in Brilliant White and Super Clear and, unlike sealants with a lower specification, it will not discolour or turn yellow over time.
MACXSEAL is a Hybrid Polymer, solvent-free sealant and adhesive based on the latest polymer technology. It contains a fungicide to combat mould and bacteria growth and once applied, the cured product has good abrasion, oil, and solvent resistance. Used correctly, it will last over 20 years.
Thanks to its 'no compromise' abilities, MACXSEAL is said to be perfect for every kind of sealant and adhesive job – including sealing baths, sinks, vanity units and toilets, tiles, mirrors, metals, wood, stone, concrete, marble and brick. You can even use it on wet surfaces.