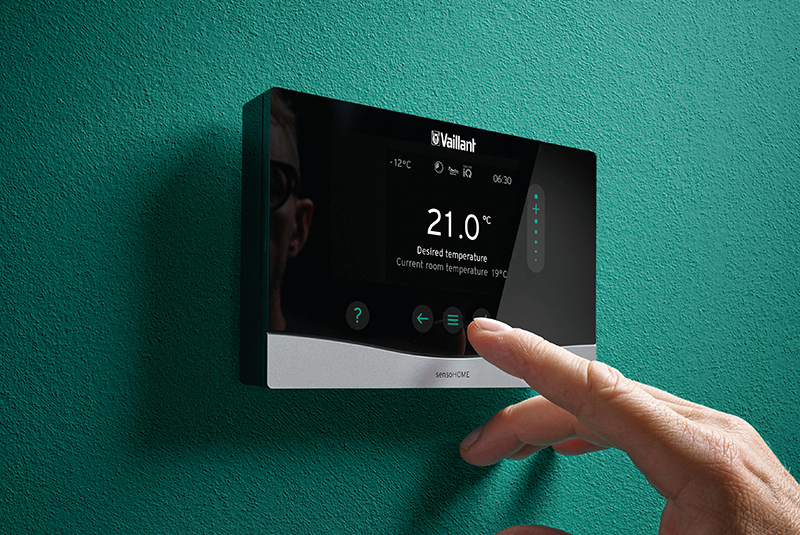 Following research which highlighted that 71% of Brits are looking to purchase a smart thermostat in 2020, Vaillant is launching its most advanced range of controls yet.
Developed in response to both consumer and installer feedback, the sensoCOMFORT and sensoHOME controls offer increased connectivity, a smart modern design and are extremely easy to use, meaning with just a few simple touches, customers can set their perfect heating schedule.
Both models feature load compensation and weather compensation as standard*, while the wired sensoCOMFORT can control up to five heating zones with individual room temperatures. In addition, both the wired and wireless versions of the sensoCOMFORT are also compatible with the sensoAPP and renewable heating technologies, such as heat pumps. And for larger properties, including HMOs or light commercial properties, the sensoNET internet gateway, when paired with ambiSENSE smart radiator valves, allows for 20 individual heating zones to be created.
In addition, the senso range makes installers lives easier through guided commissioning, using the in-built eBUS connection making installation of both the sensoCOMFORT and sensoHOME easy. So, not only are the controls able to scan the entire system for components, the eBUS intelligent communication protocol, means they synchronise seamlessly with any Vaillant boiler enabling constant and precise control for increased energy efficiency.
Designed with simplicity in mind, the modern touch interface of both sensoCOMFORT and sensoHOME controls complements the décor of consumers' homes and the controls also let consumers know when a service is required or if a fault has occurred.
And, as more homeowners seek out solutions which can improve energy efficiency, the new energy dashboard** feature on the senso controls range gives increased visibility of energy usage to help reduce energy wastage.
For homeowners, when the sensoCOMFORT is paired with Vaillant's sensoAPP it allows total control of the heating system at home and on the go, while also notifying users about the status of their heating system, including when maintenance is required. And for those looking to be more environmentally conscious, the sensoAPP is fully compatible with ambiSENSE to give you control of individual rooms.
Steve Keeton, Training and Technologies Director at Vaillant, said: "Homeowners today lead a busy lives, so it's important to them that they have technology solutions around the home to support them. After working closely with our installers, and listening to what homeowners want, we've developed our brand new senso range of controls.
"Not only are they easy to install, but they offer the functions we know homeowners want, such as a sleek touch interface design and the increased precision when it comes to controlling their heating systems when away from the home, helping to make their homes more efficient."
Following industry feedback, Vaillant has extended the guarantees offered on its controls range to match the boiler or heat pump that it's installed with, meaning it could be covered for up to 10 years depending on the product fitted.
To find out more about the senso range of smart thermostats from Vaillant, visit www.vaillant.co.uk/for-installers
*sensoHOME requires outdoor weather sensor
**sensoNET (VR 921) required to view energy dashboard on the sensoHOME