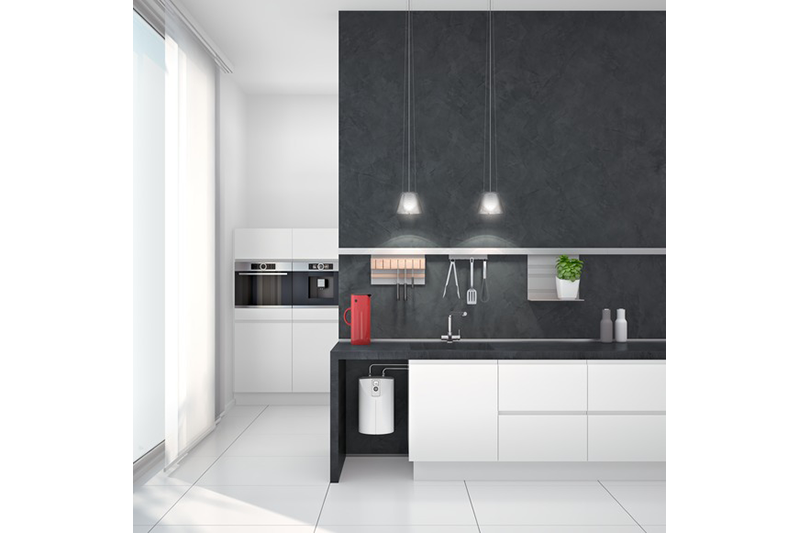 Stiebel Eltron has launched the SNE 5t ECO GB in the UK, a new all-electric water heating option for both domestic and commercial schemes.
The SNE is reported to be the first fully electronic small storage tank water heater available in the UK, offering both efficiency and comfort with precise temperature selection, configurable timer programmes to suit every environment and user-friendly digital controls via a clear LCD interface.
The product also includes an ECO mode to save energy, accompanied by a specific hygiene function that heats the water to 73 ͦC for 30 minutes once a week to prevent the growth of bacteria.
An innovative thermostop function further bolsters the product's renewable credentials, preventing heat loss from mixer taps. The product also features anti-drip technology that reduces limescale deposits – saving water in the long run.
The launch marks another step in Stiebel Eltron's commitment to an all-electric future, strengthening the business's offering on this front as the UK looks to fulfil its net zero targets and transform the environmental credentials of both existing and new buildings.
Mark McManus, Managing Director at Stiebel Eltron UK, said: "2020 has been a challenging year for us all, so it's great to start 2021 with two major product launches in this and our new WPE_I heat pump range. We have confidence that there remains a strong appetite for quality low carbon heating options and these new lines demonstrate that.
"The pandemic has showed just how important home comforts are, as more of us are expected to live and work in the same space under lockdown measures. Our products reflect this and are designed to streamline the way that we live, while making sure our energy usage is sustainable and its sources environmentally friendly.
"As the UK works towards the 2050 net zero target, with new legislation such as the Future Buildings Standard, we anticipate that renewable electric options will only grow in popularity. Embracing these heating methods will be a key element of the decarbonisation of our built environment."