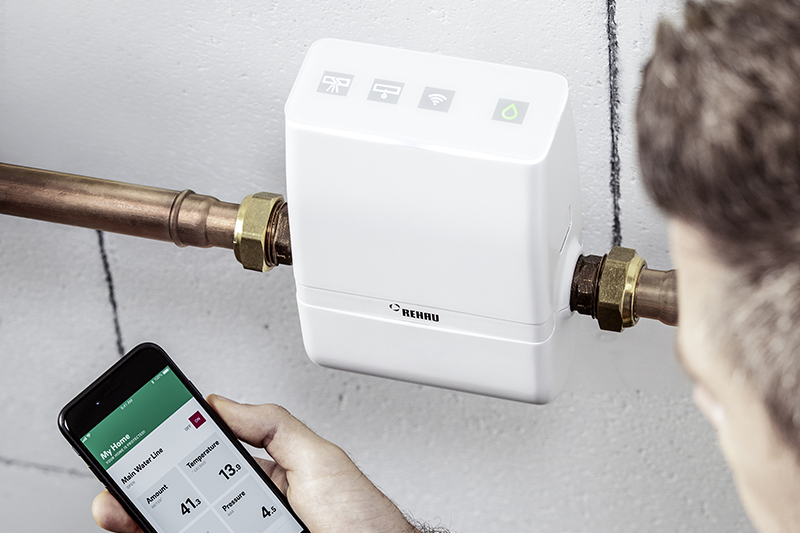 With water damage proving to be one of the most frequently reported insurance claims, REHAU has unveiled a smart water control system using the latest in ultrasound technology – RE.GUARD.
According to ABI, insurers pay out £1.8 million for residential water damage every day. Causes can relate to a number of issues such as corrosion, limescale and frost compromising old pipes, as well as accidental drilling of new systems. With drip-based leaks usually going unnoticed, and burst pipes then leading to severe damage, this new prevention technology will be of interest to many.
The RE.GUARD smart water control system monitors the water flow rate assessing it in real time due to integrated software. The system comprises four main components: a smart water controller, water sensors, a hub gateway and an app.
The smart water controller helps to detect burst pipes and drip leaks by shutting off the water supply to mitigate damage. It is installed after the water meter which allows it to also measure water consumption, and has the ability to be manually turned on and off.
The controller is supported by water sensors which detect leaking water in critical areas even faster by being positioned throughout the house. They connect to the RE.GUARD smart water controller via the Z-Wave radio standard and an extension cable is available for places that are particularly difficult to reach.
All devices are connected to the Internet via the RE.HUB gateway which can easily be connected to a home's router.