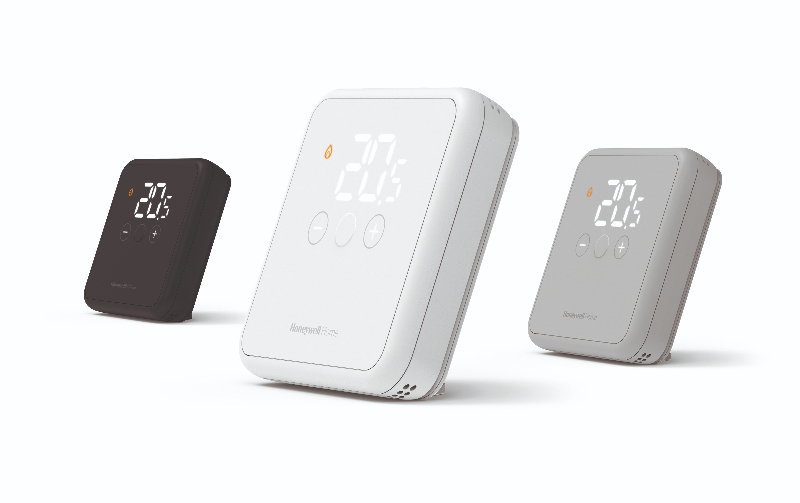 Resideo has announced the expansion of its Honeywell Home DT4 Room Thermostat range with the introduction of two colour options – grey and black. 
Following the white finish, launched earlier this year, these two new colour options expand the options for homeowners to work with the aesthetic of their home décor and maximise energy efficiency. 
As with the white option, the black and grey DT4 Room Thermostats can be installed as a standalone thermostat or part of a wider home comfort solution with products such as the HCC100 underfloor multi-zone controller and evohome multi-zoning system. DT4 Room Thermostats are also compatible with a range of hybrid and greener energy systems and energy-efficient solutions. 
The range offers wired or wireless communication with options for time proportional (TPI) or modulating appliance control. It also works with on/off and OpenTherm compatible heating and cooling appliances, such as boilers, heat pumps and district heating systems.  
Martin Wilson, sales director at Resideo said; "Installers play a vital role in helping homeowners select the most effective upgrades for their heating system. The Honeywell Home DT4 ticks so many boxes. It has proved a popular choice for installers wanting a control that can work effectively with a wide range of energy sources, from boilers to heat pumps. For customers, it looks good, remains simple to use and has the reassurance of a 5-year warranty. 
"The sleek look was specifically designed to appeal to both installers and customers. Now, the addition of two new colour options gives an even greater choice for this versatile and efficient control. 
"This winter, with many customers wanting to save energy where possible, the Honeywell Home DT4 range also forms a key part of Resideo's latest heating season campaign – 'Small upgrade, mighty impact'. Its purpose is to help installers demonstrate to customers that making small upgrades to their heating controls can deliver a noticeable difference to energy bills during the colder months. While also looking great, the DT4 range can help save up to 10% on annual heating bills when upgrading from a mechanical thermostat (Class I)."