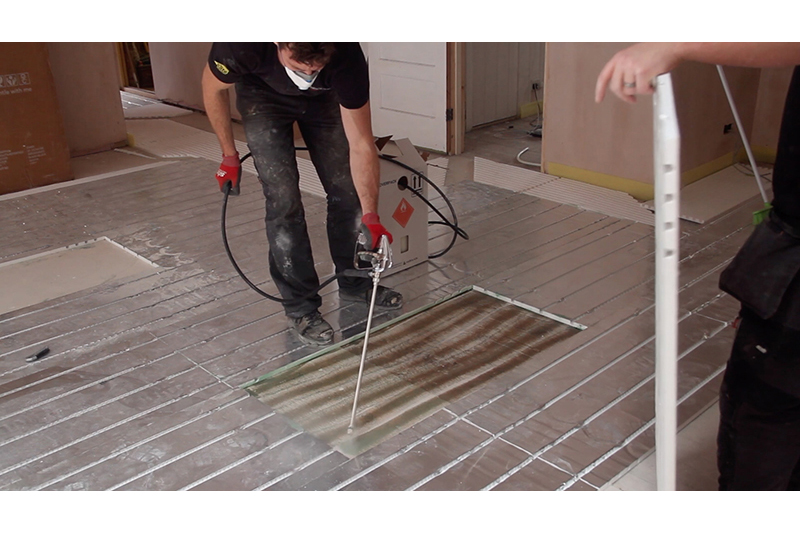 Wunda Group has created Wundatherm, a rapid response over-floor system 16 or 20mm thick that can be laid without the need to dig up floors and is suitable for both retrofit and new build.
Wundatherm consists of pre-formed aluminium coated boards that deliver rapid response heating and are bonded instantly to the floor with spray adhesive. Once in place, high output 16mm floor heating pipe is laid into the pre-formed grooves in the boards, looping around to a heating manifold, with up to 150 sq.m taking two people just two days to install. Once the boards and pipes are down, any choice of floor covering can be laid straight away, from carpet and vinyl to wood, laminate, ceramic or stone tiles.
The Wundatherm system is said to take minutes to reach operating temperature, and creates a comfortable heat as the boards come factory fitted with thick aluminium for fast heat transmission. The continuous, leak-proof pipes carry a lifetime guarantee. Wundatherm is also noted for its rapid response time when activating or adjusting the heat temperature in a room.
Wundatherm comes with a number of options including both 16 and 20mm board thicknesses and three densities to choose from, according to the final floor surface. There are also different pump sets available to go with the manifold, and hassle-free auto-balancing actuators which adjust flow rates. To complement the whole system, there is a range of matched traditional hard-wired thermostats, as well as wireless and smart controls via an app on mobile devices to offer users complete remote control of the system.