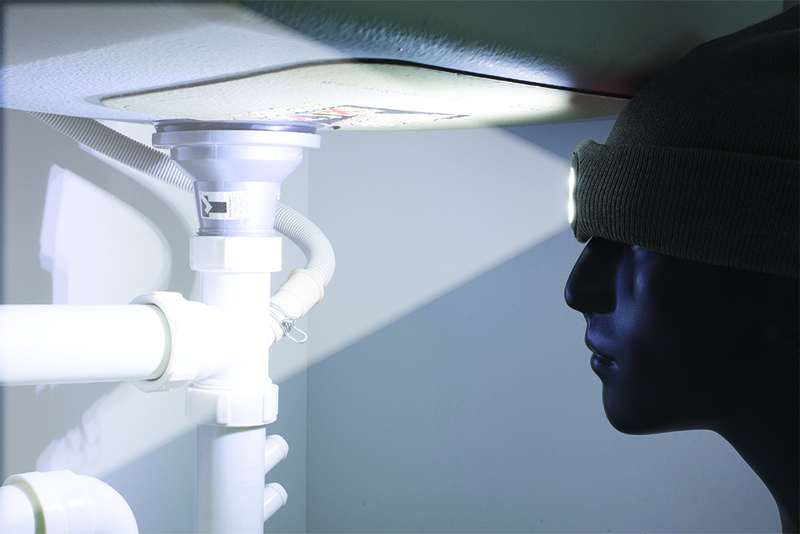 Did the BE-02 from Unilite leave us light headed?
There are two things that plumbers want when they're on a job – comfort while they work and to be able to see what they are doing. The BE-02 beanie light from Unilite is designed to deliver this and more! This hat is a warm knitted beanie which features an integrated USB rechargeable LED headlight. At first the idea of a hybrid between the two of these sounds unlikely but, thanks to some innovative thinking, it has been made possible.
One immediate question is how do you go about charging up the light? It's actually pretty straightforward as it can be quickly popped out of its aperture and then charged via any USB slot, giving you the versatility to be able to charge it up wherever you find a USB slot available. This means that you can charge it via a PC, laptop, mains socket (with a USB mains adaptor) or in the car (with a 12V adaptor). The light is charged within four hours, with a red LED signalling charging and a green LED letting you know when it is fully charged.
The light output from the high powered SMD quad LEDs totals 150 Lumen, giving a perfectly balanced and even white light for every application. This can then be toggled between three light intensity levels, meaning you can turn it down when it is lighter or turn it up when you've been left in the dark! With this in mind, it will last up to four hours on one charge.
The beanie itself has a warm and comfortable feel to it. This is down to its construction, with an acrylic and polyester blend providing a well formed manufactured make-up. The acrylic provides comfort, managing any excess moisture well, whilst also being odour resistant and providing warmth in cold weather without a weighty feel. The polyester makes it quick drying and easily washed, as well as durable to stretching and wrinkles. It also retains its completed structure, helping to keep you extra warm.
If you're worried that the BE-02 won't fit you, have no fear – one size fits all.