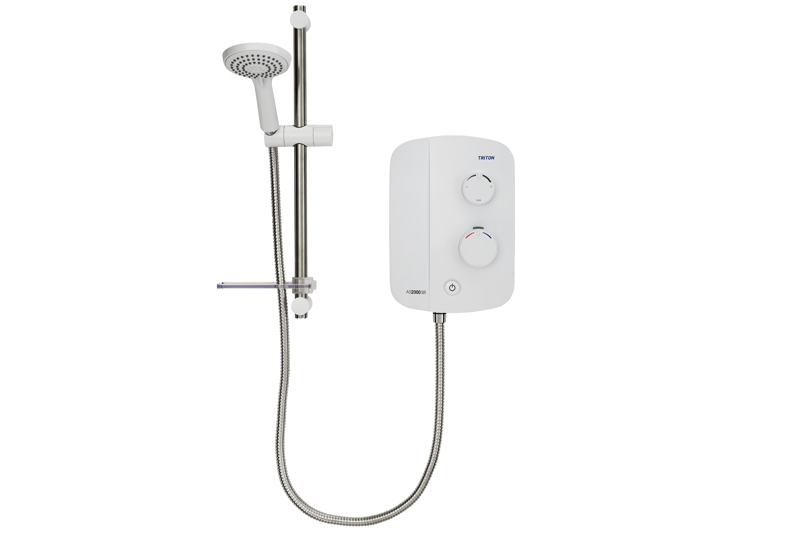 Responding to consumer appeals for a quiet power shower, Triton has re-engineered its AS2000 range.
The new AS2000SR has been awarded Quiet Mark approval as a result of its low noise and high performance. Designed for low-pressure systems, and suited to the replacement market, the product provides continuous running performance with flow rates of up to 14 litres per minute.
The AS2000SR is fully thermostatic for precise control, and has a maximum temperature stop to avoid any accidental exposure to uncomfortably hot water. To ensure the perfect setting, there is an easy-to-use stop start button, along with a variable flow-control and temperature dial.
In addition, with installation flexibility in mind, the new model also features multiple cable and water entry points, and includes the Triton Swivel Fit water inlet, enabling installation to either top, rear or bottom entry pipes. Further added benefits include an anti-twist hose and a large three-mode, rub-clean shower head, helping to make cleaning a simple task.
Tina Simpson, Marketing Director at Triton Showers, comments: "For those in low-pressure areas, a power shower is a popular choice, but it may feel like a compromise as the noisy motor could potentially disturb other house members. Before kicking off the day, or after a stressful one, having time to relax and unwind in the shower is a necessity and we shouldn't have to sacrifice this moment of peace simply because of the noise.
"The new AS200SR brings all the advantages of our tried and tested power shower range, with the added benefit of being silent – a unique selling point within market."
The product features a one-year warranty and labour guarantee.