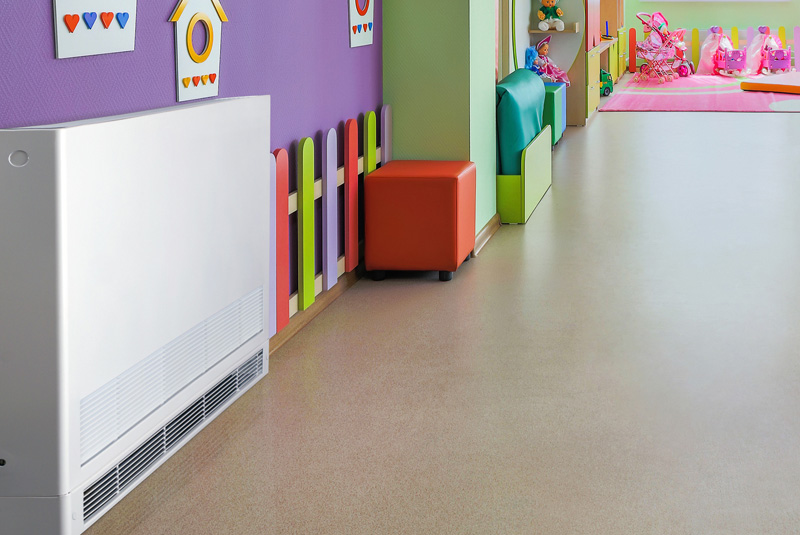 QRL Radiator Group has unveiled a brand new low surface temperature (LST) offering designed to provide a safe, effective and efficient heating solution. The new NHS-compliant LST casings are built to work in partnership with the company's hi-lo panel radiator range – matching straightforward installation and maintenance with best-ever performance and efficiency.
Available in three heights, the new LST casings ensure radiator surface temperatures stay below 43°C, making them ideal for applications catering for vulnerable people (including healthcare, education, social housing and other public buildings). As well as complying fully with NHS Safe Surface Temperature guidelines, they also offer significant flexibility of installation and feature a hinge mechanism that's been designed for easy, low-risk cleaning and upkeep. The 800, 650 and 500mm casings have been specifically engineered to work in a package system with the flagship hi-lo Round Top radiators, which are claimed to offer the highest levels of efficiency and heat outputs of any panel radiator on the market.
Mike Wright, product development manager at QRL Radiator Group, says: "In line with tightening health and safety criteria, the LST market has seen marked growth in recent years. However, the challenge for the industry has always been balancing safety with heat outputs, and making sure that one isn't sacrificed in pursuit of the other. At QRL, we're committed to responding to rising demand with the most efficient, user-friendly products possible, so this was front of mind when we developed our new LST.
"As well as meeting all-important NHS criteria, it is specially designed to work in conjunction with our hi-lo Round Top panel radiators, which feature advanced third-generation radiator technology that's unique to QRL. In short, this means they offer better heat transfer, lower water content, and the best heat outputs available – maximising energy savings and minimising running costs for the LST system as a whole."
The new products are reportedly the only purpose-built LSTs on the market to feature fully retractable, forward-opening hinges that are designed to support the full weight of the casing. As well as allowing for hassle-free upkeep and repairs, this means a standard clean can be carried out by just one person. For a deeper clean, the hinges can be fully retracted to detach the casing from the emitter altogether.
QRL is also offering separately packaged casings and emitters, providing the option for the casings to be fitted at a later date. This not only allows for simple retrofitting to existing hi-lo panels, but also means each casing is protected from on-site damage from first-fix activities.
Independently tested, QRL's LSTs are certified to meet BS EN442 standards. They are compliant with NHS Safe Surface Temperature guidelines (max. 43˚C) when operating at a maximum flow temperature of 80˚C and a return of 60˚C, or a maximum flow temperature of 75˚C and a return of 65˚C. They come with all components needed for hassle-free fitting and ongoing operation. This includes external and internal TRVs for safe, simple temperature control, and an anti-microbial, MRSA-resistant coating for optimum hygiene. They also feature heavy-duty pencil-proof grilles that allow air to circulate effectively, while simultaneously preventing foreign objects from accessing the emitter underneath.