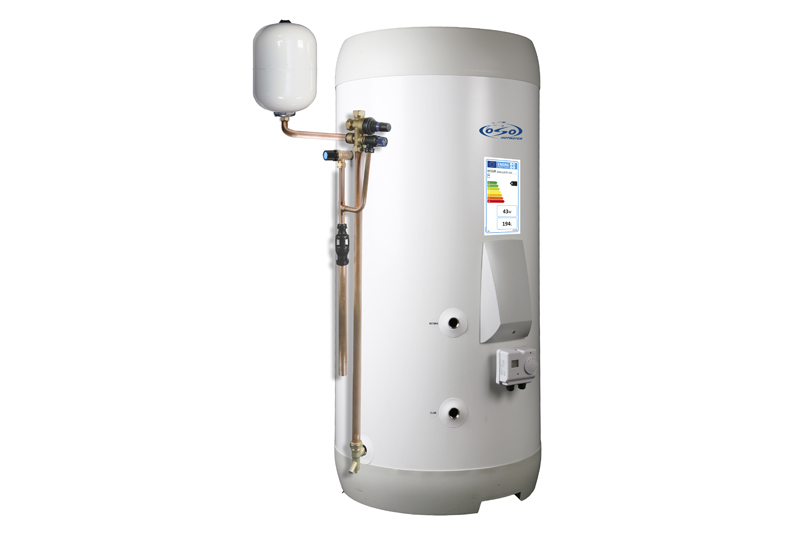 PHPI reports on the new OSO Delta VIP range.
The OSO Delta VIP is reported to be the first full range of ErP A rated unvented hot water cylinders, up to 300 litres, available in the UK – setting new standards for energy efficiency and heat loss by using Vacuum Insulation Panels (VIP) as the primary insulation material.
The product is currently available in six indirect capacities from 120 to 300 litres and will be complemented later in the year with solar thermal and heat pump ready cylinders, again all A rated.
The heat retention properties, made possible by the use of vacuum panels together with the 4th generation of the company's EcoFoam insulation, is described as a leap forward in water heater performance. OSO's research engineers have tested and planned for years to perfect the product for launch to coincide with the introduction of energy labelling on water heaters.
OSO expects Delta, manufactured from high grade stainless steel, to appeal across the board in the cylinder market. Householders will be attracted by the superior energy rating of the products in the knowledge that this will save substantial sums over the lifetime of the cylinder. Similarly, housebuilders will be placed at an advantage by the superior SAP scores produced by Delta VIP. Energy ratings and SAP scores are determined by the same standing heat loss test.
Achieving an A rating for small cylinders up to 150 litres is possible using conventional methods. However, for the larger, more popular sizes, simply adding more foam insulation is not enough – a different level of insulation technology is required. Installers should be careful to check energy ratings across an entire range of capacities.
Delta VIP is supplied with a full fittings pack and digital thermostat showing current water temperature and featuring holiday and anti-legionella functions. It is designed to fit in a standard airing cupboard.
In keeping with other OSO cylinders, Delta has an advanced design that conceals electrical cables within conduits in the base and side insulation, thus tidying the area surrounding the cylinder. Delta is fully compatible will all boilers and can be interact with the boiler via a thermistor probe or thermostat.