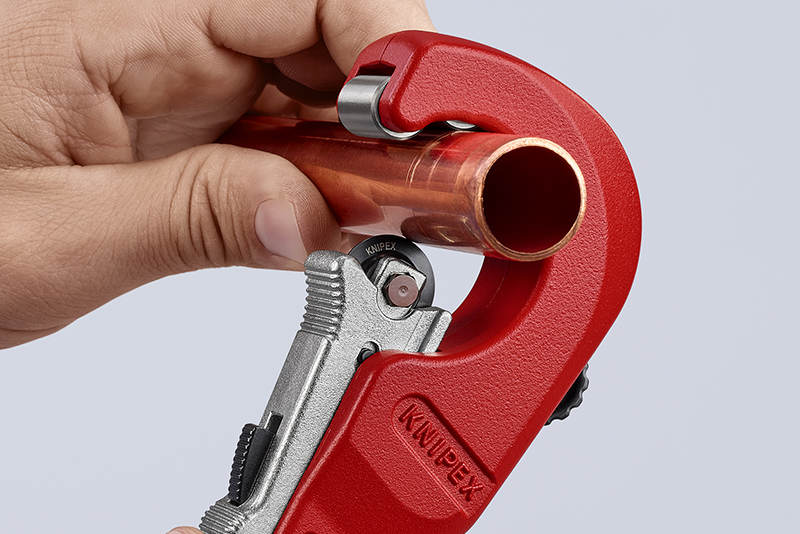 The KNIPEX TubiX pipe cutter makes it easy to cut pipes up to 35 mm in diameter and with a wall thickness of 2 mm accurately. An integrated deburring tool is also included.
The 180mm long KNIPEX TubiX pipe cutter is said to make work much easier. Due to 10 quality needle bearings that are integrated in the cutting wheel and guide rollers, copper, brass and stainless steel pipes with a wall thickness of up to 2mm and diameters from 6 to 35 mm (1/4″ to 1 3/8″) can be cut easily using just one hand. This is done with the QuickLock single-handed quick adjustment which guides and locks the tool onto the pipe, then accurately positions the cutting wheel for different pipe diameters. Afterwards an integrated, retractable deburring tool smoothes out the cut surface. The cutting wheel is made of quality ball-bearing steel and can be exchanged quickly.
What to do
Simply place the open TubiX pipe cutter on the pipe, then position and lock the cutting wheel into place on the workpiece using the QuickLock single-handed quick adjustment. The pipe is cut by turning the tool, and the clearance between the cutting edge and the pipe can be freely adjusted with the ergonomic feeding barrel. The cut surface can then be deburred if necessary.
The cutting wheel on the TubiX is made of quality ball-bearing steel while the metal housing is light and durable magnesium. The needle-beared and spring-loaded cutting wheel can be easily exchanged, a spare wheel is also located in the feeding barrel.