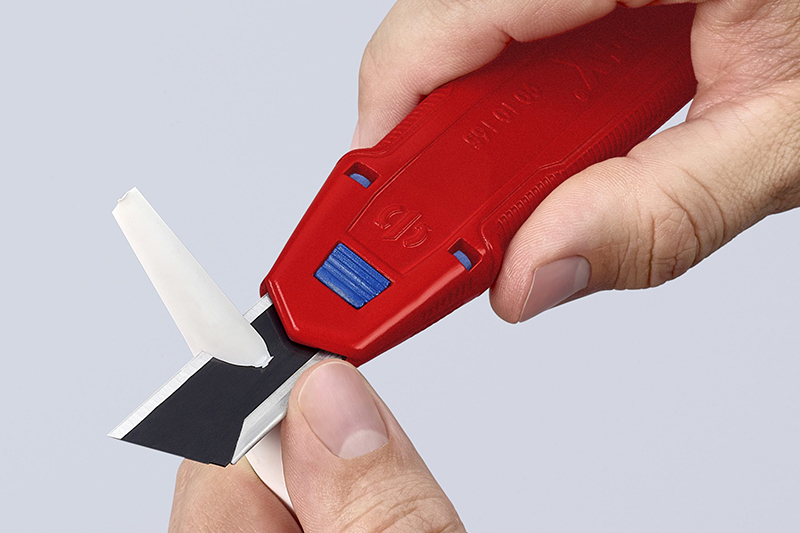 The KNIPEX CutiX Universal Knife 90 10 165 is a described as a particularly durable and versatile snap-off knife featuring unique blade stabilisation. It enables safe and powerful work even with the blade extended. The magnesium housing makes the tool light and particularly robust. The snap-off knife is suitable for numerous 18mm blades from common quality manufacturers.
The 165mm long KNIPEX CutiX Universal Knife is the first snap-off knife produced by the Wuppertal-based tool manufacturer in its almost 140-year history, and the company has set out to develop an extremely flexible, variably extendible stabilisation bar for the KNIPEX CutiX Universal Knife that makes the tool particularly versatile to use, allowing you to work faster and to cut with greater precision. For example, the stabilisation bar ensures that an extended snap-off blade remains rigid, so that pressure can be applied more safely directly to the back of the blade.
When it comes to the material used in the housing, KNIPEX has chosen magnesium for its robustness and light weight. As a result, the Universal Knife only weighs 111g, making it as light as a plastic knife and ensuring it remains a reliable companion even after years of intensive use.
The KNIPEX CutiX Universal Knife also differs from simple carpet or box cutters in many other details: The separate sliders for the blade and stabilisation bar are flat and do not protrude from the housing. This helps the slim snap-off knife to fit comfortably and ergonomically in the hand and ensures that the sliders cannot be engaged accidentally. Due to its numerous anti-slip grip zones, it can be held very flexibly: for example, firmly in the palm of your hand or between your fingers like a pen for delicate tasks. The blade holder always holds the snap-off blades securely thanks to the hardened steel pin. The rear end of the handle is securely closed and reliably prevents the blade slider or even the blade from slipping out. As a bonus, a tether attachment point for tool tethering systems such as KNIPEX Tethered Tools allows the tool to be secured in order to prevent personal injury or damage to property.
The original equipment of KNIPEX CutiX Universal Knife 90 10 165 includes a high-quality snap-off blade, inserted and ready for use, and two spare blades in the handle compartment that can be changed without needing any tools. The Universal Snap-off Knife can hold a wide variety of commercially available 18mm blades.