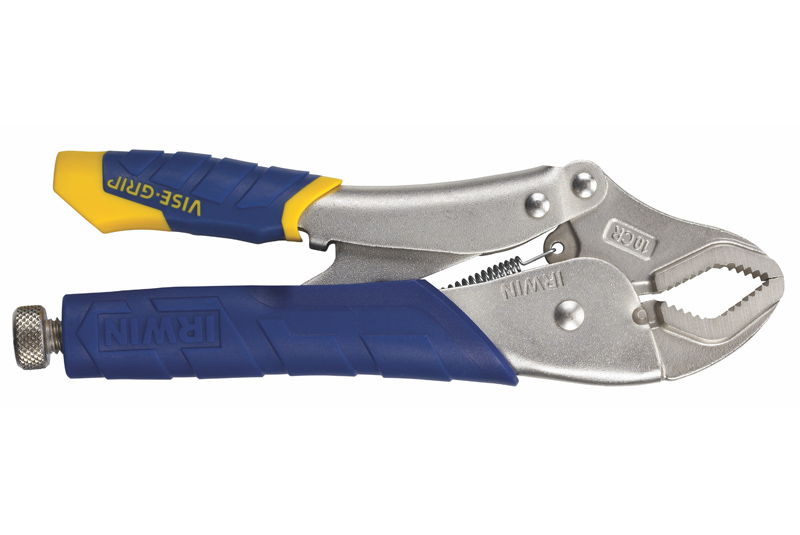 Irwin shares the top 10 benefits and uses for the latest addition to its VISE-GRIP locking pliers range.
Said to combine innovation and quality, Irwin VISE-GRIP locking pliers are constructed of high-grade heat-treated alloy steel to offer maximum toughness and durability, and hardened teeth designed to grip from any angle.
The newest addition to the range is the VISE-GRIP Fast-Release Curved Jaw, which is available in two core models: Fast Release, with a one-handed, triggerless release featuring anti-pinch, non-slip ProTouch Grips; and Original, with a classic trigger release.
So let's look at the top 10 benefits and uses of the Fast-Release Curved Jaw Locking Plier:
Curved jaw
Great for securely gripping and torqueing multiple surface shapes, including round pipes, square, or hex bolts.
Provides maximum torque without requiring heavy input pressure
The jaw mechanism naturally grips tighter as more torque is applied to the tool resulting in more clamping power.
Hex key adjusting screw
Tightens to draw material closer together and loosens to provide a controlled release.
ProTouch grip
The moulded handles are anti-pinch and non-slip to provide comfort, control and less hand fatigue.
Self-energising lower jaw
The jaw mechanism provides three times more gripping power. The pivot allows jaw to align on workpiece for maximum grip without slipping or stripping.
Fast release handle
Allows for a one-handed, triggerless release with no pinch points, making it twice as easy to open as traditional locking pliers.
Multi-talented
The Curved Jaw Locking Plier is ideal for multiple jobs including wire cutting, pulling, prying and gripping.
Nut/bolt adjustment
The tool is ideal for extreme four-point pressure on frozen nuts and bolts, tightening pipes on radiators, and much more.
Works in the wet
It performs brilliantly in wet and greasy environments.
Easy manoeuvrability
The tool is ideal for manoeuvring in tight spaces where a worker cannot easily get two hands on a tool.
The Irwin VISE-GRIP Fast-Release Curved Jaw is available in 125, 175 and 250mm variants, whilst the Irwin VISE-GRIP Fast-Release Curved Jaw with wire cutter is available in 100, 125, 175 and 250mm versions.
For more information on Irwin's pliers, visit: www.irwin.co.uk