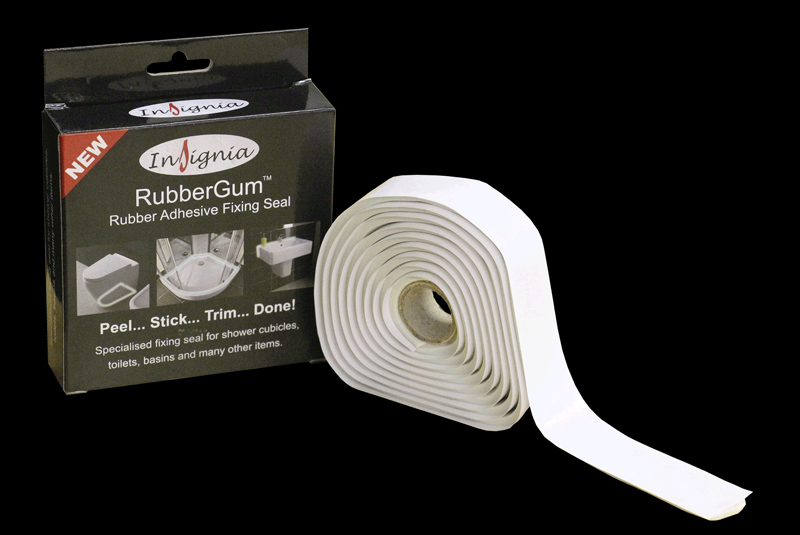 PHPI finds out more about a new fixing and sealing product from Insignia which is looking to take on the traditional silicone market.
We have always associated the Insignia brand with steam and massage showers but we understand you are introducing something quite different to the bathroom market…
That's right. The company is one of the leading luxury shower brands in the UK but we believe we have spotted an important gap in the market for a special fixing and sealing product which we are calling Rubbergum.
It's something we have been working on for a couple of years and has undergone extensive research and development. In essence, it's a new sealing gum which we are confident is a lot easier to use than traditional silicone, but is also extremely strong – capable of cementing and waterproofing items such as toilets, basins and shower cubicles to the wall and floor.
How is it supplied?
It's available on a roll, and has a Blu-Tack like consistency that can be moulded to any shape or direction. The molecular structure of the compound means that it becomes stronger under pressure, compressing to form a tight seal. Unlike silicone, it will also press out any imperfections or minute holes but can be repositioned several times without losing its adhesion.
What about curing times?
Rubbergum is instant so there's no waiting 24 hours to cure – and it can easily be trimmed to leave a neat finish .A pack contains a 1680 by 15mm wide strip.
Are there any other potential uses?
Its versatility means that it has the potential to be used outside just the bathroom, and we can see installers using it as an all-purpose sealant and cement in a variety of building and plumbing tasks.
Rubbergum features at a glance
Available on a roll
Can be moulded in any shape or direction
Molecular compound becomes stronger under pressure, compressing to form a tight seal
Under pressure, will press out imperfections and potential holes
Can be re-positioned several times
Remains fresh on the roll
Can be trimmed easily to leave a neat finish
Is instant and does not require any curing time.