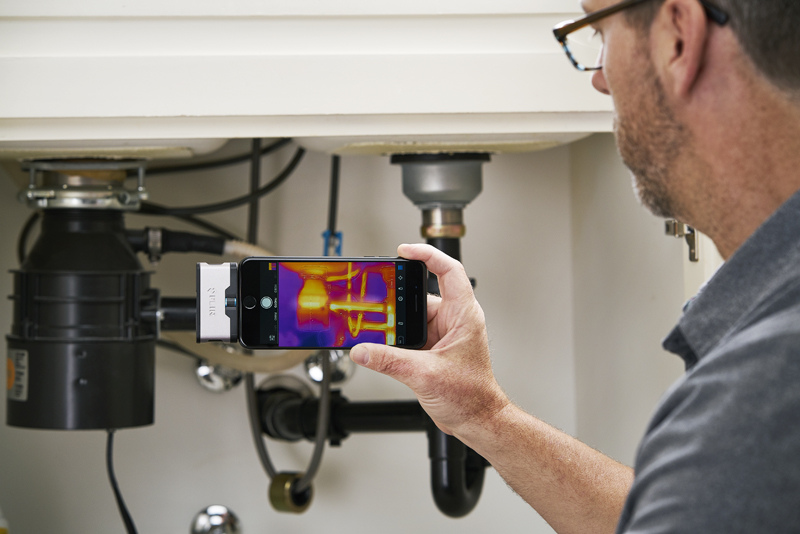 FLIR Systems has unveiled the third generation FLIR ONE and FLIR ONE Pro thermal imaging cameras. Powered by FLIR's Lepton thermal microcamera core, the FLIR ONE builds upon a legacy of enabling thermal imaging on smartphones. The latest FLIR ONE is FLIR's most affordable smartphone thermal camera while the first edition FLIR ONE Pro is the most advanced FLIR ONE to date.
Features
Like its predecessors, both new FLIR ONEs come equipped with a thermal and a high-definition visible camera. Using FLIR's multispectral dynamic imaging (MSX) technology, both FLIR One models emboss high-fidelity, visible-light details onto the thermal imagery to dramatically improve image quality. The FLIR ONE and FLIR ONE Pro offer a breadth of new and improved features, including:
The OneFit adjustable connector enables the connection to be adjusted up to four millimetres to accommodate a variety of smartphone cases without the need to remove the case. This patent pending feature is available for both iOS and Android devices.
An improved FLIR ONE app that now features in-app tips and tricks for problem solving and uses cases, a community for sharing images and videos.
Smartwatch compatibility with the Apple Watch and select Android smartwatches, providing the ability to stream live thermal imagery to see around corners and take images or video from your smartwatch.
FLIR ONE Pro
The all-new FLIR ONE Pro, designed for professionals and consumers alike, is described as the most advanced FLIR ONE ever created. With a distinctive, rugged design that is drop tested to 1.8 metres, the FLIR ONE Pro is made to withstand work and outdoor environments. Combining FLIR's MSX with the company's video signal processing technology, VividIR, the FLIR ONE Pro delivers the highest thermal image quality and clarity of all FLIR ONE generations. It also offers exclusive, advanced FLIR ONE App features, including multiple spot temperature meters and selectable onscreen temperature tracking regions.
"Our goal with the third generation FLIR ONE and FLIR ONE Pro is to equip more consumers and professionals alike with the ability to experience the power of thermal imaging and the world's sixth sense," said Andy Teich, President and CEO of FLIR Systems. "With continued research and development, we've combined the functionality of previous versions with greater affordability to provide a thermal camera accessory. Meanwhile, we have also created the more powerful FLIR ONE Pro for those who require more functionality and image clarity either at home, at play, or on the jobsite."