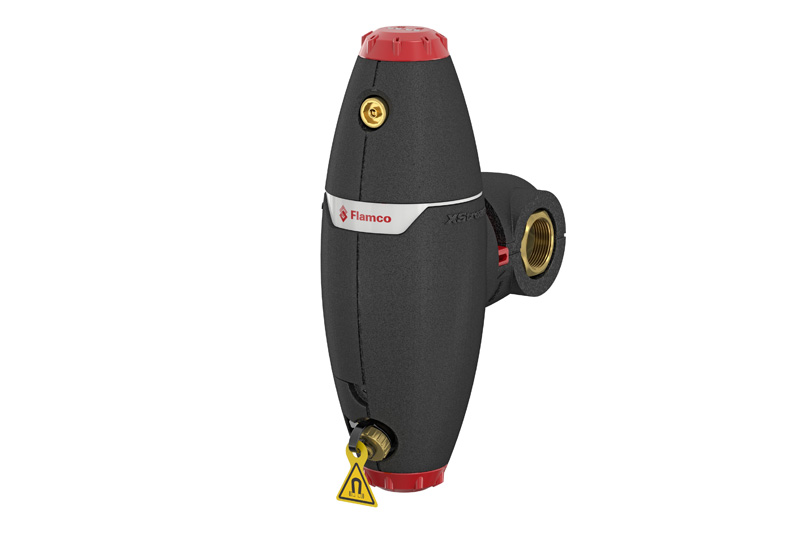 Flamco has introduced XStream in the UK – a new approach to air and dirt separation.
The removal of air and dirt is essential for a good and efficient heating system and the new XStream is intended to be a huge step forward in prolonging the life of a heating system through a guaranteed reduction in energy consumption and class leading efficiency.
The Flamco XStream effect sees up to 15% less energy consumption by the heating system; the introduction of automatic venting; less wear and tear to the system with a lower chance of a breakdown; up to 6% more efficiency from the system; and the introduction for the first time of an ECO/MAX mode that allows the unit to operate at maximum power to remove dirt and air from the system primarily during system start up, or whilst the system is being commissioned, before turning the system down to ECO to ensure constant activity but with a low resistance and pressure drop – meaning the pump has to work less hard in the installation.
Installation is designed to be simple, and XStream is equipped with a 360° rotating connection which makes it possible to install in horizontal, vertical or diagonal lines so there's no need to take into account the flow direction of the installation.
XStream is available in three different units – Flamco XStream Vent, an air separator; Flamco XStream Clean, a dirt separator; and Flamco XStream Vent-Clean, which provides both air and dirt separation in one unit.
The XStream is supplied with an integral insulation jacket so that heat losses are kept to a minimum. It also comes with an integrated service indicator which shows the last flush date. With the XStream Vent, the service indicator shows when the system was last vented in MAX mode. Thanks to the internal magnet, the Flamco XStream Clean and the Vent-Clean are efficient at the removal of magnetite from the system. The magnet is designed to create an optimal magnetic field which captures even the smallest magnetic particles.
Importantly, this new air and dirt separation system comes with a 15-year warranty – highlighting Flamco's confidence in the product.