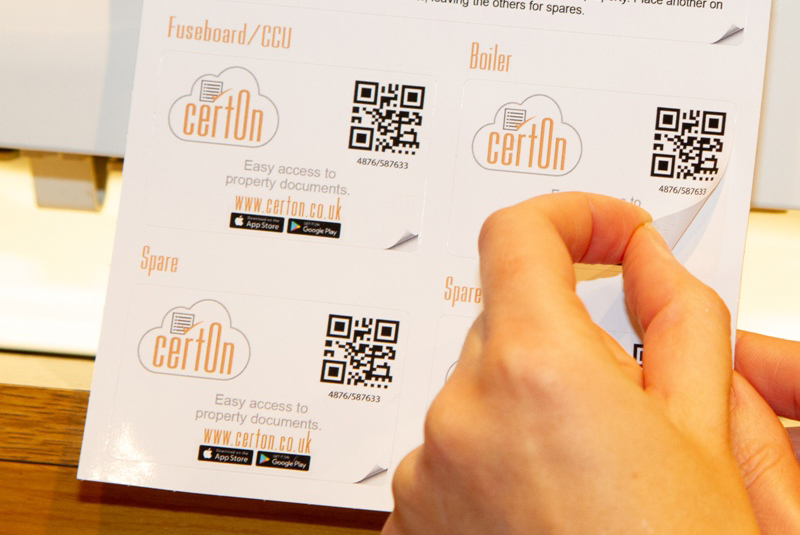 We put the questions to Boyd Goulden, who has come up with a novel way of safeguarding safety documents for customers.
Created by Boyd Goulden, an NICEIC registered electrician, CertOn is a paperless document storage system that allows homeowners to upload and store all relevant documentation. But it's much more than a cloud-based storage system. Through the issue of a unique QR code linked to the property, CertOn allows installers to use their own smartphone or tablet to read the QR code and access all important documents instantly.
The system is designed to support all tradespeople, and acts as a digital store for documents such as gas checks, servicing updates, electrical certificates, fire safety, Fensa, building notifications, warranties, and much more.
What led you to come up with the idea for this system?
I cannot begin to tell you how many times I have been astounded at the lack of certification or missing documents I come across at customer sites. Sometimes it can be blatantly negligent of the previous trades not to have given or left the correct certificates with the customer, or it could be that the customer has not understood the importance of keeping that information.
For tradespeople to have access to all certificates is a big time saver, and gives an engineer the necessary information that they may need to know in order to carry out a job safely and efficiently.
What are the advantages of using this system?
*Easy – simple set-up and storage process
*Safe – stored in the cloud and paperless
*Secure – every important certificate is stored in a secure environment
*Accessible – simply scan the QR sticker to access documents stored on CertOn
This system will also help the homeowner to understand the importance of receiving a certificate, whether this is a gas safe annual test, an electrical installation, Part P, building compliance, Fensa or even when the chimney was last swept!
What are the main benefits for the consumer?
Homeowners or tenants can ensure their documents are up to date, and can rest safe in the knowledge that their documents are safely stored in the cloud. While for companies or landlords who have multiple properties or manage larger installations, it provides a solution where documents are often not always readily available.
What will be the main difficulties in rolling this system out? How do you expect to overcome these?
The main difficulty will be in understanding the needs of the various types of user for the system – homeowners, installers or housing associations may have different requirements, for instance – and making the product work for all of them.
There has been extensive research into each of the groups to tailor the product to best fit their needs. We are always fine-tuning and altering the system when it's necessary. The good news is, we received some great feedback at the recent Plumbexpo and Elex trade shows in Manchester from all sides of the industry.
How is the system progressing so far? Where do you see it heading in the next 5-10 years?
The system is progressing well, and adapting along the way as we learn about new features and requirements as part of the field research. The next challenges will be scalability, and more advanced integrations making CertOn fit seamlessly into people's lives. We would love to see this as an industry standard, thus leaving the end user and installer confident in knowing where the property documents are, in one easy to access place!
How are you encouraging installers to sign up?
We are offering an Affiliates scheme to all trades, where anyone issuing documents can earn money back by selling CertOn to their customers.
Hopefully the benefits should be fairly obvious. I often hear of installers having to send another certificate to homeowners as they are selling their house, or had lost or not received the original. With CertOn, it's always at the property, saving any hassle.
What's the difference between your system and some of the existing online certification software out there?
We are not an online certification company. We hold an image of the original document, ready for the instant retrieval when required via the unique QR code and app.
Simply find the CertOn QR Code in the building near the appliance and you'll immediately have access to CertOn.