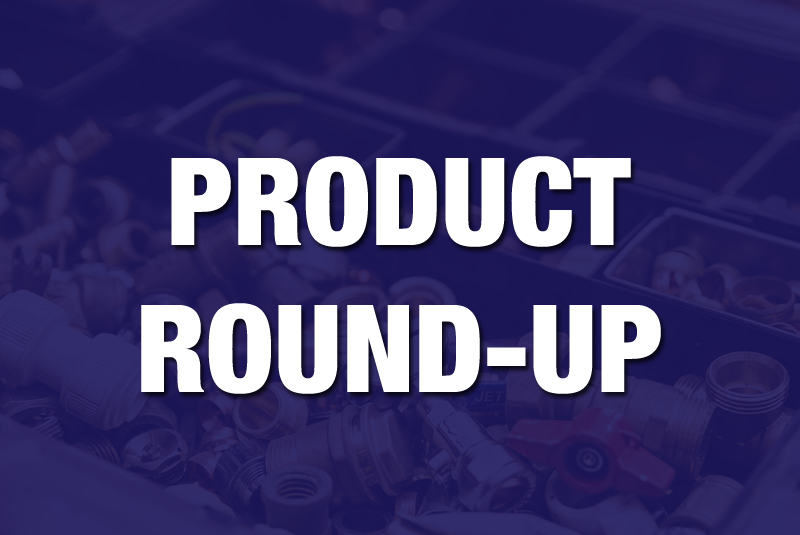 Maincor
Bevelling tool
In a bid to make preparing Maincor MLCP (multi-layer composite pipe) simpler prior to installation, the manufacturer has introduced a new bevelling tool. The product is said to make pipe bevelling easier, while its ergonomic design is reportedly more comfortable, particularly when used on a regular basis.
Maincor MLCP is a formstable multi-layered pipe, which has a 100% oxygen barrier to guard against corrosion and low rates of expansion to reduce installation times. It can be threaded through a building leaving no wastage, and because its formstable and capable of tight bends, means fewer elbows are required.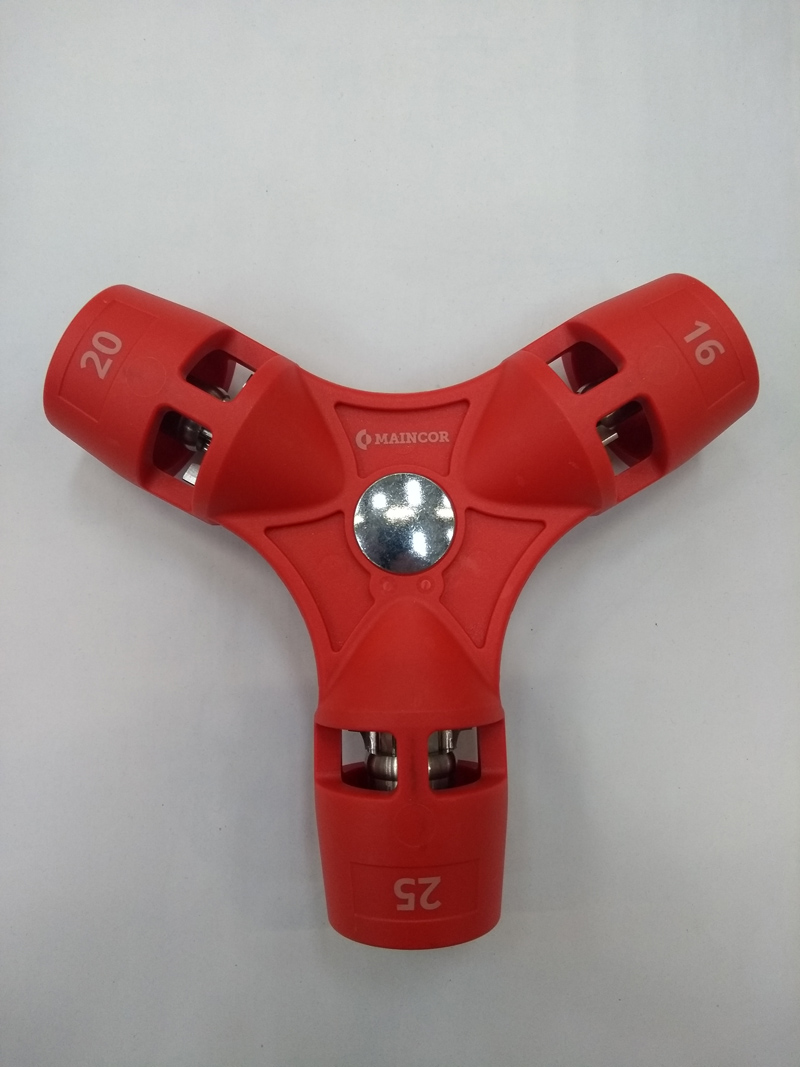 Remeha
Quinta Ace Range
With the introduction of its new wall-hung condensing boiler series, Remeha has unveiled the Quinta Ace range. Successor to the Quinta Pro series, it builds on its predecessor's technology with a next-generation control platform and an all-new human-machine interface (HMI) panel.
Via a new full-text, full colour interface, the controller provides intuitive access to an extended range of parameters using a rotary selection dial and smartphone-like buttons. Available in 30, 45, 55, 65, 90 and 115kW models, in addition to the existing Quinta Ace 160, the series has been designed to meet all retrofit and new installation requirements.
www.remeha.co.uk/products/wall-hung-range/quinta-ace-30-115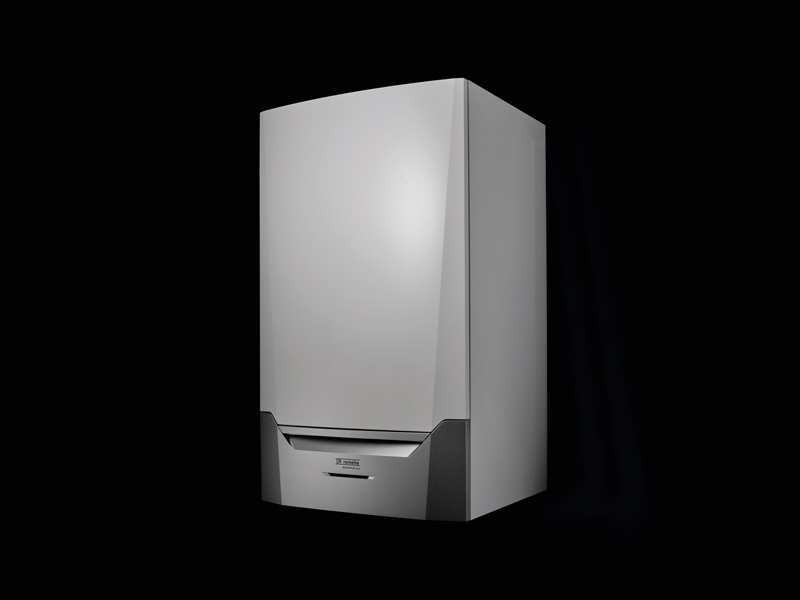 Elmhurst Energy
Design SAP 10 Beta
Following the release of the SAP 10 methodology, Elmhurst Energy has released Design SAP 10 Beta in anticipation for the updates to the Building Regulations in 2020. It has been designed so that those with access to Design SAP 10 Beta will be able to advise on the new requirements and inputs of the SAP 10 methodology for new build properties from 2020 onwards.
It will also allow energy assessors to become familiar with the new requirements, as well as allow them to import existing assessments from Design SAP 2012 into Design SAP 10 Beta to view the impact on the assessment process, including additional data fields and measurements.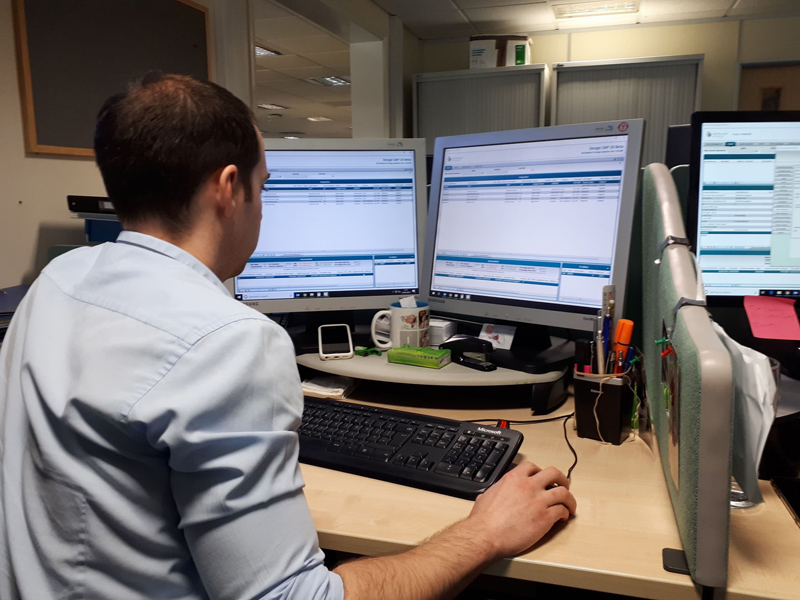 KNIPEX
TwinKey
For those wanting access to standard cabinets and shut-off systems, the Knipex TwinKey has been launched to "open them all". The small multifunctional key allows access to cabinets, lockers, cupboards and can be used when controlling heating and ventilation systems, air conditioning or gas and water supply and shut off valves.
The 8-arm version has two 4-way spider keys, which are connected with a magnet to save space, while a reversible bit is also joined to the key by a stainless steel wire.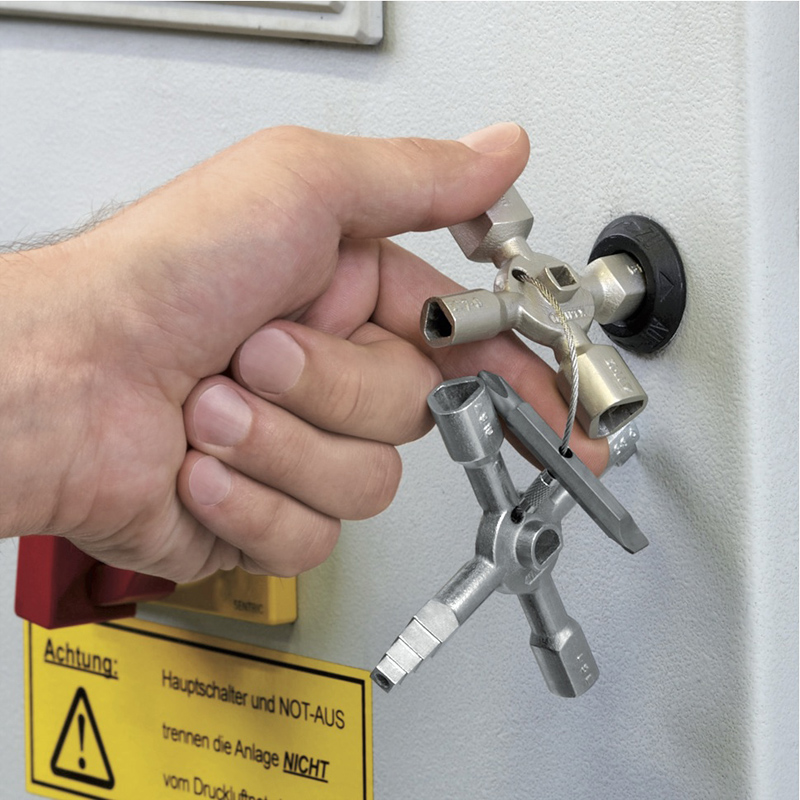 Bosch Professional
X-LOCK
Launched at the same time as six small X-LOCK angle grinders, Bosch Professional has introduced the X-LOCK accessory-change system – described as a completely tool-less alternative to traditional systems, allowing users to simply bring the accessory and grinder connecting surfaces into contact and press. To remove a disc, users only need to flick a lever on the grinder and changeovers can be completed in five seconds.
A new range of more than 130 accessories covers everything from metalwork and stonework to plumbing and tiling. Almost all of the accessories can also be used on older, non-X-LOCK angle grinders with conventional clamping systems. The six small X-LOCK angle grinders, meanwhile, comprise one corded model and five 18V battery-powered cordless products.
https://www.bosch-professional.com/gb/en/x-lock/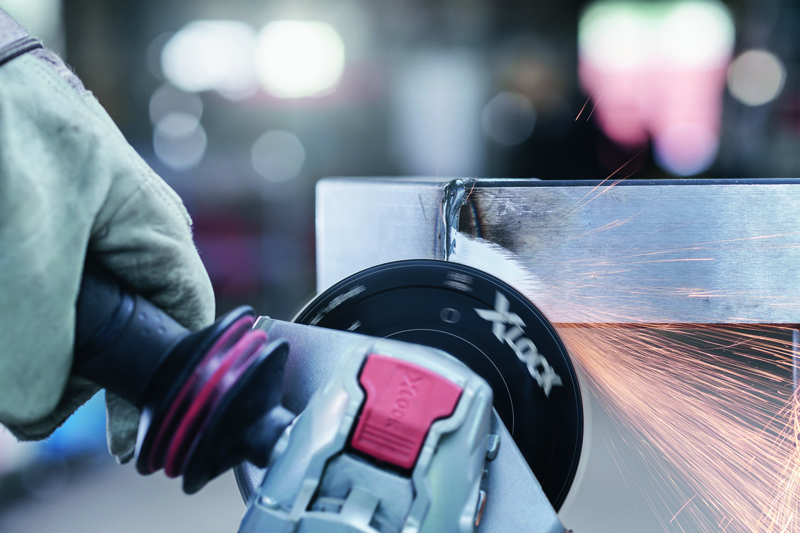 Rubi
TX MAX
Designed for cutting hard ceramic materials, Rubi has launched the TX MAX tile cutter. Notable features include its reinforced components – particularly the 30mm diameter tubular steel guides – as well as its 'Master Power' breaker, which can be operated with one hand and has a maximum power of 1,200kg.
It also includes breaker-scorer assembly, which incorporates a ratchet lock with quick trigger release. The base of the cutter is cast aluminium and incorporates a rotating square with central pivot for angular cuts. Furthermore, all cutters include 2, 8 and 22mm scoring wheels and a case for protection and handling.
www.rubi.com/en/news/new-rubi-tx-max-ceramic-tile-cutter-n95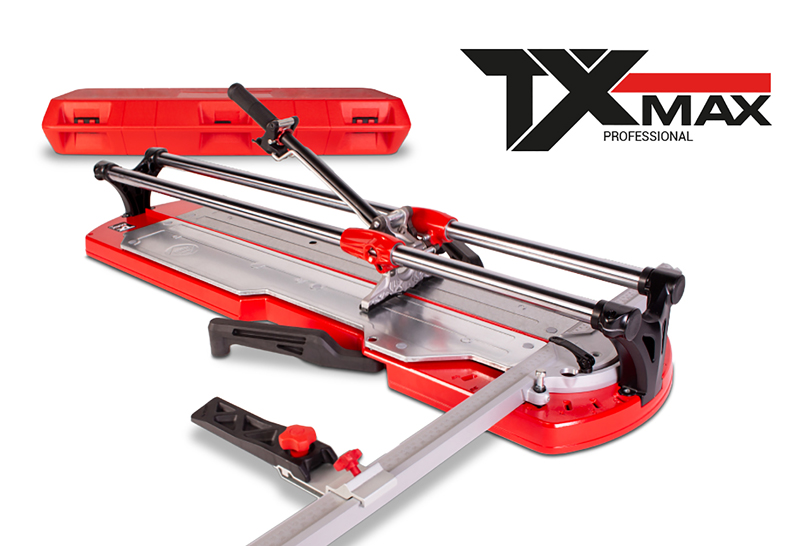 Viega
Megapress S
Extending its Megapress S range, Viega has introduced press connections for pipe sizes between 3/8 and 2-inch diameter. Part of the Megapress range of press connections for thick-walled steel tube, Megapress S features a FKM sealing element and has been engineered for high temperature applications up to 140°C and pressures up to 16 bar.
The Megapress S range, which includes options for large diameter tube, will now allow installers to use press connection technology on tube from 3/8 inch up to 4 inches and, on the larger sizes (2½ to 4 inches), the time saving is up to 80% compared with welding, according to the company. Viega connectors are also colour coded to allow easy identification on-site with Megapress S products clearly marked with a white dot.
www.viega.co.uk/en/products/Catalogue/Piping-technology/Megapress-S.html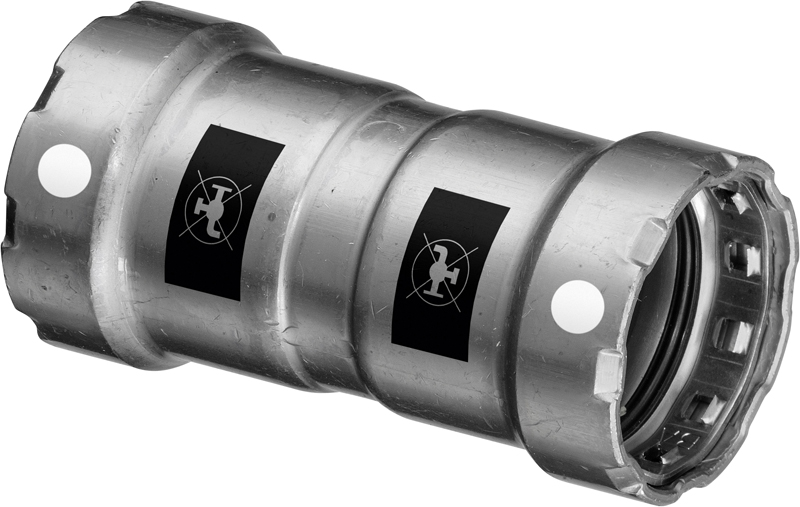 Snickers
Topwear
The warmer weather will bring the need for professional tradesmen and women to keep cool and dry while working on site. Snickers has, therefore, introduced its new Topwear for the summer which features 37.5 fabric technology, keeping moisture away from the body and keeping the wearer dry.
Shirts, hoodies and sweatshirts are also available in a range of styles and colours which promise to be light and quick-drying with advanced ventilation to keep tradespeople cool in the heat. The range also includes body-mapping designs to assist with fit, functionality and comfort.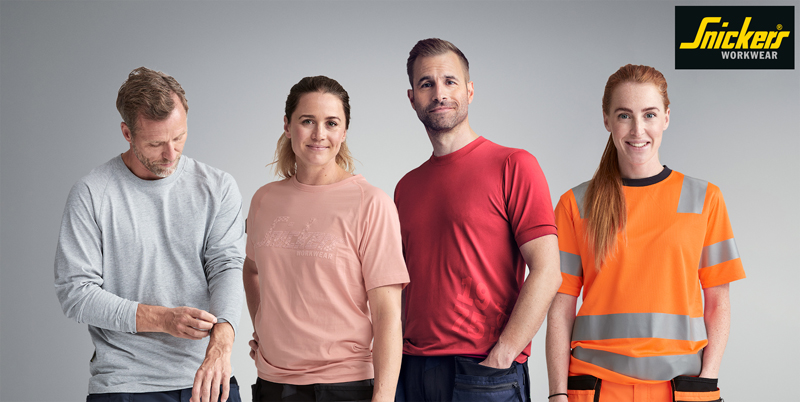 Thermocill
An eco-friendly product that is said to warm up a room 'quicker than usual', has been unveiled by inventor Keith Rimmer. Thermocill is a device which can be placed under the window board and above the radiator to redirect heat in a room.
Thermocill works on the basic principle of convection. Most radiators are positioned in a room under a window and are designed to heat the air in the room using convection to transfer heat from the radiators to the surrounding air. When Thermocill is fitted under the window board, it redirects part of the warm convection air flow through the unit, exiting directly in front of the internal glazed unit within the window, focusing on the cold spot. Extending from 125 to 250mm, the unit fits most regular sized window boards and comes in three width sizes of 100, 300 and 500mm.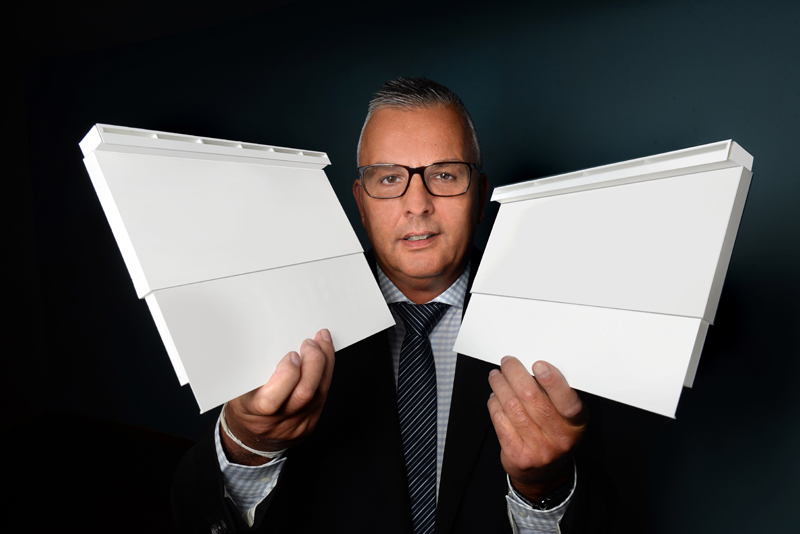 Titon
HRV20 Q Plus
Adding to its range of MVHR products, Titon has introduced the energy efficient HRV20 Q Plus. The new model has been designed to offer increased airflows of up to 194l/s, making it the most powerful MVHR unit Titon has ever produced.
The HRV20 Q Plus has been designed to enhance SAP performance via Appendix Q, by combining low power consumption and a heat exchanger capable of achieving efficiencies of 89%. As a result, units can be fitted as part of a ventilation system inside larger apartments or dwellings. The unit is available in two models – the Eco HMB and the Eco B – each boasting a 100% airflow diverting Summer Bypass.