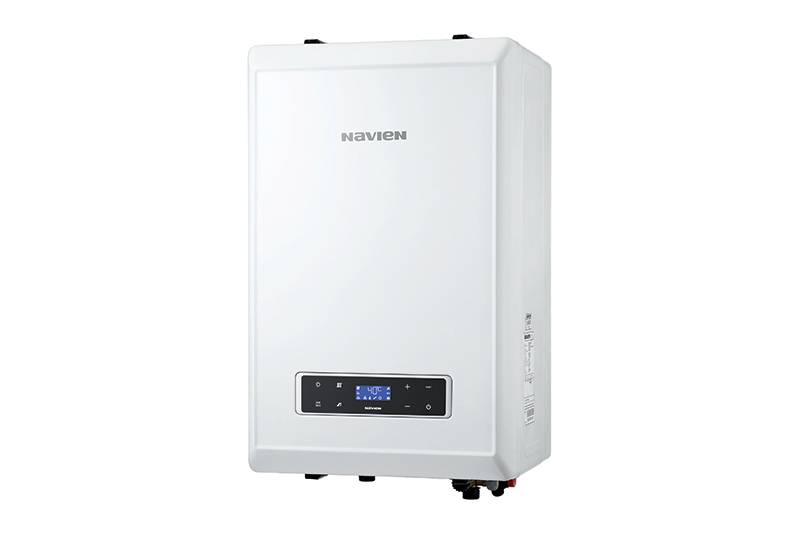 Navien has achieved international recognition for its state-of-the-art heating technology, which is exemplified by the company's range of NCB condensing gas boilers – comprising four combi and four system models.
In addition to low NOx emissions (class 6), all NCB gas combi boilers are water resistant to an IPX5 rating, while each unit is easy to handle for simple, fast and cost-effective installation. The range is also OpenTherm ready, allowing for instant access to the latest heating control technology.
Every Navien NCB gas boiler boasts a stainless steel heat exchanger and digital display panel, with 40kW models benefiting from a turndown ratio of 10:1. These quiet running units use 60/100mm plastic flues and are supplied with a free LPG conversion kit.
The Navien range also offers flue length capabilities of up to 21m, allowing for flexible installation. In addition, the company's intuitive Smart Plus control offers further levels of energy efficiency. Its smart weather forecasting and geofencing capabilities are said to ensure optimum end user comfort, while all devices are three-zone ready and boast smartphone connectivity. Utilising the control alongside Navien's NCB gas boilers also improves energy efficiencies, raising their overall ErP rating to 'A+'.
All boilers benefit from a modern full text display, which makes it easy to view useful information on the user's domestic hot water usage, and supply/return water temperatures, while an ECO function reduces energy and water used. The display will even inform a Navien service engineer about how efficiently the respective unit is performing and its self-diagnosis and error feedback feature offers a quick troubleshooting guide.
NCB boilers are also available in Navien's Packtastic bundles. This features the Smart Package, which consists of a NCB combi boiler, a Navien Smart Plus controller, a free standard horizontal flue, all combined to provide an improved energy efficiency from 93% to 97% (ErP rating). There's also the ErP A+ Package, which comprises three Smart Plus controllers, free flue with a combined improved energy efficiency from 93% to 98% (more details available from Navien on request). Each package includes a 10-year warranty, providing an extra three years on the standard warranty that is usually supplied with each NCB gas boiler.
Commenting on the NCB range, Jason Davies, National Business Manager at Navien, said: "We are committed to delivering industry leading products, to ensure installers and end users benefit from high levels of quality and reliability. The NCB gas combi and system boilers utilise the latest in heating technology, while delivering optimal efficiencies, controllability and reduced energy bills."
Installers can also receive rewards on every NCB gas and LCB700 Blue Flame oil boiler they register through the Navien Installer App, once they sign up to the Navien Choice loyalty scheme at www.navienchoice.com. Points earned can either be banked or redeemed immediately for instant rewards; from grabbing a snack on the go through to the latest tech and gadgets.