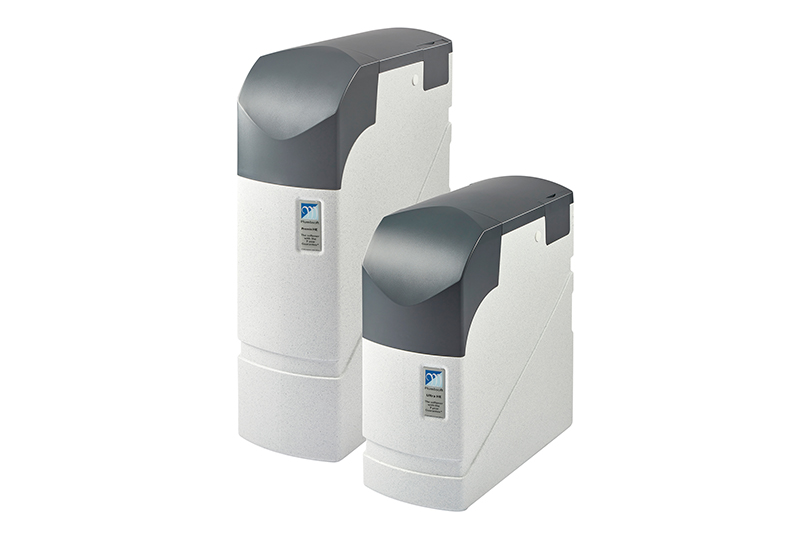 The Ultra HE and Premio HE are the latest models to join Monarch Water's range of sustainable, high efficiency water softeners.
Building on the success of its HE range, Monarch Water has developed two new battery-operated twin tank duplex series metered softeners to join the high efficiency range.
Both the Ultra HE and Premio HE are high capacity, making them suitable for a range of applications. They are designed to be the perfect solution to tackle hard water and the problems it causes.
The new models measure 557h x 269w x 489d (Ultra HE) and 778h x 269w x489d (Premio HE). The Ultra's high-efficiency capacity of 1,520 litres at 300ppm between regenerations makes it ideal for families up to 10 people, while the Premio, with a capacity of 3,040 litres at 300ppm can accommodate occupants of up to 20 people, or small commercial applications. The fact that they are powered by a single long-life lithium 9V battery means these twin tank softeners don't need a power supply, making them easy to site.
The Ultra HE and the Premio HE include a duplex series Sof'N'polish system, with double the contact time for ultra-soft water. Monarch's resin beads have increased surface area, enabling greater capacity per regeneration when compared to regular resin.
The Ultra HE uses both tablet and block salt and has flow rates of up to 65l/min, while the Premio HE uses tablet salt and has flow rates of up to 61l/min.
These premium softeners also feature Monarch's Opti-Brining technology, which means that the units only regenerate the resin that's been used and consumes 32% less water and 13% less salt than previous models.
The installation kit that accompanies every Ultra HE and Premio HE features Monarch Water's Hi-flow Rapid-Fit bypass, which reduces installation components by up to 80%. These softeners come with kits suitable for 15 or 22mm applications, with 28mm models also available. Another feature of these units are reversible connections, which allow the softeners to be connected on the left or right hand side.
The built in CPP (Customer Protect Programme) detects leaks, and learns water usage patterns to regenerate accordingly, which saves on salt and water. They also automatically adjust to BST and GMT time changes.