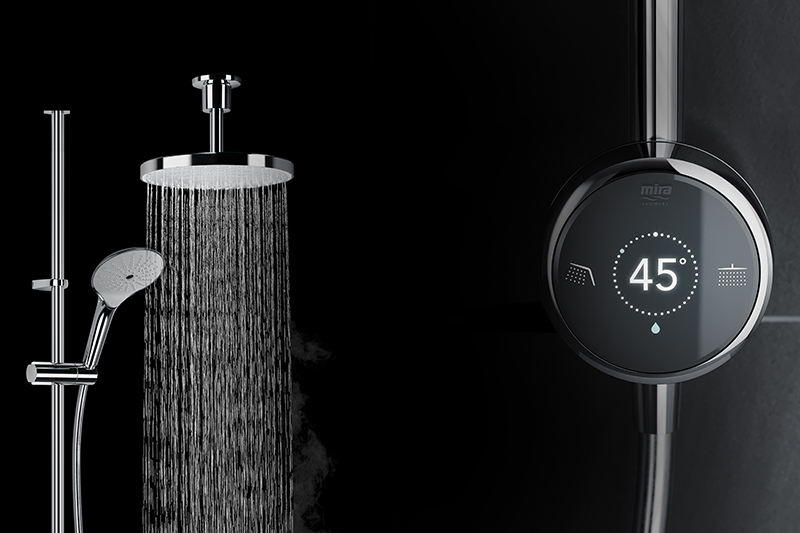 Mira Showers is looking to lead the way in the latest digital technology for smart bathrooms with Mira Activate, which allows consumers to bring technology into the bathroom whilst promising installers easy installation.
Available in single and dual outlets, Mira Activate is designed for new and retrofit installations. The range has been engineered specifically for easy installation. There's minimal pipework alteration required – which means no new holes or new tiles – and a three-pin plug to enable installers to 'plug and play'.
The ceiling-fed fittings kit comes pre-assembled and has two digital valve platforms suitable for both high and low pressure systems, designed to make installers' lives as easy as possible.
Suzannah Hallam, Digital Product Manager at Mira Showers, said: "Our continued study of the smart bathroom trend and our innovation in digital showering demonstrates our understanding of the market. We recognise the growing demand from consumers for smarter bathroom products and have developed the Mira Activate range with the Mira Showers app, to support installers in meeting this demand."
Modern design
The Mira Activate boasts a modern design with a 250mm overhead, an award winning 4-spray Switch handset and a chrome plated finish. Additionally, controller bezel accessories are available to purchase separately in matt black, brushed nickel and titanium finishes, with a wireless remote-control accessory also available (purchased separately) to suit different bathroom styles.
A number of new additions, including a stylish digital display and controller linked to app technology, create a personalised showering experience with up to ten customisable shower pre-sets, as well as the opportunity to create your own.
Additionally, using digital showering technology Mira Activate allows for the monitoring and control of water temperature and flow through the Mira Showers app.
Become a PRO
Installers will also receive additional benefits when fitting the Mira Activate range through the company's InstallerPRO programme (terms & conditions apply). InstallerPRO is a new, free membership community designed exclusively for independent trade professionals to recognise the hard work of installers and providing ongoing support to the community. It offers priority technical support, business development tools and the latest professional training – plus a range of merchandise, installer kit and retail voucher rewards.
Suzannah Hallam continued: "Installers have played a vital role throughout our 100-year journey, and to help recognise their invaluable role in the success of our brand we have developed the InstallerPRO programme to acknowledge this."
www.mirashowers.co.uk/showers/digital-showers/mira-activate
www.mirashowers.co.uk/installerpro