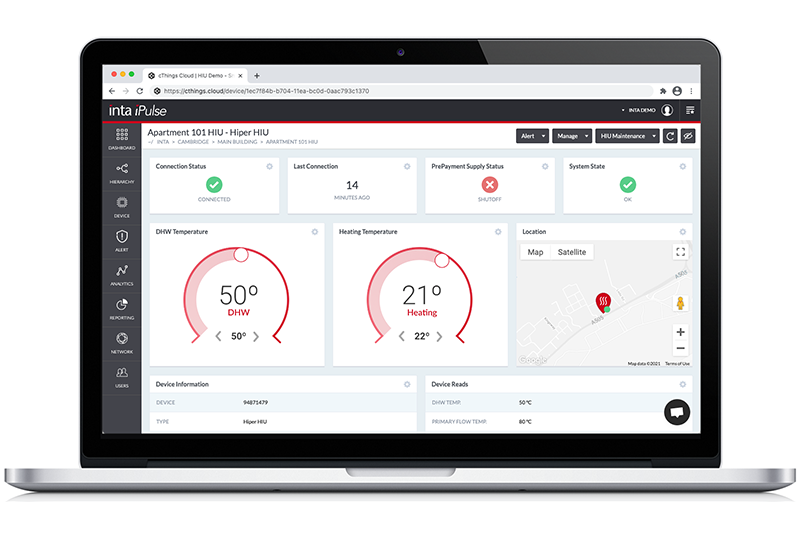 Intatec has launched a Heat Interface Unit (HIU) control and monitoring solution to introduce greater control while helping heat network operators save time and money.
The company launched its second generation HIPER II HIU last year and after a year of development is now launching iPulse, allowing engineers to configure all system components for maximum efficiency and providing operators with diagnostic reports, operational history and other information through the centralised management platform.
A variety of Intatec iPulse packages allow for flexibility for customers, with a full range of services offered from support in HIU selection through all stages of sales, installation, commissioning, warranty support and servicing to the annual customer billing for heat used and monitoring of the units and network ultimate efficiency.
Other key features of the iPulse include access to installation maps, HIU operating condition and status reports, alongside the ability to remotely alter temperature settings.
For those who use the Inta Hiper II, the iPulse package offers a higher degree of control than ever before, working alongside the product's Modbus system.
If there is an issue at any point in the heat network, an engineer can be called out with full knowledge of what the issue is, allowing for a fast and accurate resolution.
Stuart Gizzi, Director at Intatec, said: "As our industry moves towards prioritising efficiency in performance and clarity of information, the iPulse is going to be a really effective tool for our customers and those looking to move easily into the world of HIU.
"We can work with any energy provider to ensure the benefits of the iPulse are available to all.
"This technology enables smart monitoring – with the information that the electronic controller uses to control stable operating temperatures and employ self-diagnostics, the network operator is able to manage the efficient operation of the network and each interface unit remotely.
"Remote HIU monitoring has been the long term objective for our industry – making an interface unit that is electronically controlled rather than thermostatic – we are delighted to be launching the iPulse and achieving this.
"Intelligent heat networks are the future and the benefits for all are going to be vast as we move towards a more efficient future."
As well as offering a key solution to help building owners monitor their heat network, HIU systems are going to be increasingly crucial in helping the UK meet decarbonisation strategy requirements under the Climate Change Act.
The proportion of UK heating delivered over heat networks is projected to rise from 2% to at least 17% and as much as 43% by 2050. To combat this, heat networks must be as efficient as possible.