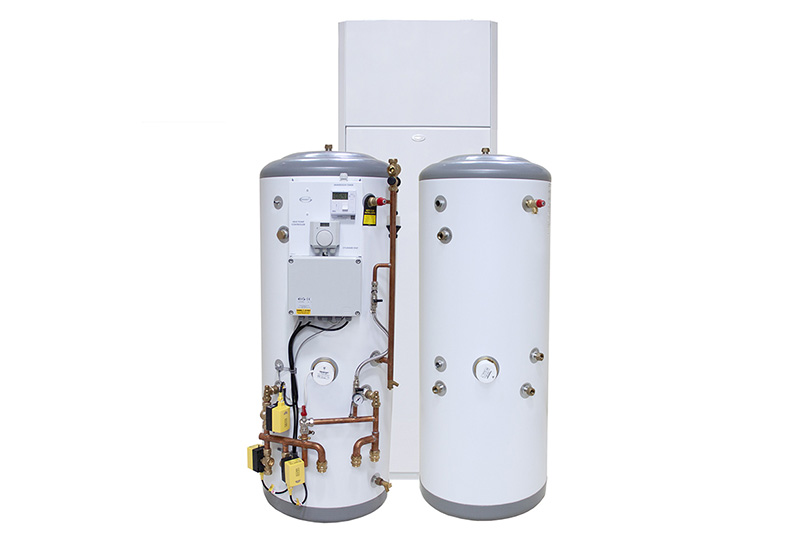 New models of hot water cylinders are being launched by Grant UK. The Grant QR Cylinder range will be available from October 2021 and will provide customers with a universal solution for their hot water storage needs, partnering with both traditional and renewable heating systems.
From October, a new range of 14 cylinder models will be available which will be suitable for installation alongside gas and oil boilers, solar thermal systems and air source heat pumps. The new cylinders comprise single and twin coil variants as well as pre-plumbed and slimline models to provide clear choice for installers when it comes to specification. Available in sizes from 150 up to 300 litres, Grant's new Quick Recovery cylinders deliver versality with excellent performance.
These latest additions to Grant's cylinder range boast faster heat-up times and excellent standing heat losses, making them Grant's most efficient generation of cylinder models. Each model can suit multiple applications so they can be installed alongside Vortex or VortexBlue oil boilers, Aerona³ heat pumps and Grant solar thermal systems. The QR Cylinders therefore provide customers with a highly efficient hot water storage solution with each one offering universal compatibility.
All of the QR Cylinders have exceptional build quality and come with a 25-year warranty on the shell. The cylinders come complete with all the fittings ready to accept 22mm pipework and their overall design combines function with aesthetics. The pre-plumbed models also incorporate several design features which make for an easier installation including a fully integrated wiring centre, factory-fitted cold water and primary system pipework, and a potable water expansion vessel.
In addition, Grant UK is unveiling its first cabinet cylinder model – the QR Integrated Cylinder – which will also be available this Autumn. This innovative product packages a QR pre-plumbed single coil 210 litre cylinder within a white casing suitable for kitchen or utility room installations. This cabinet cylinder includes multiple factory-fitted features, including a digital dual thermostat and programmable immersion heater timer, and installation is straightforward and simple. Meanwhile, for end-users, the cylinder is easily integrated into their home, ideal when a separate airing cupboard or room is not available.
"We are very pleased to be including these new cylinders to our package solutions offering," states Paul Wakefield, Managing Director at Grant UK. "The QR Cylinders are our best performing cylinders and they will provide installers with a go-to hot water solution whether they are installing a boiler or one of our renewable technologies."