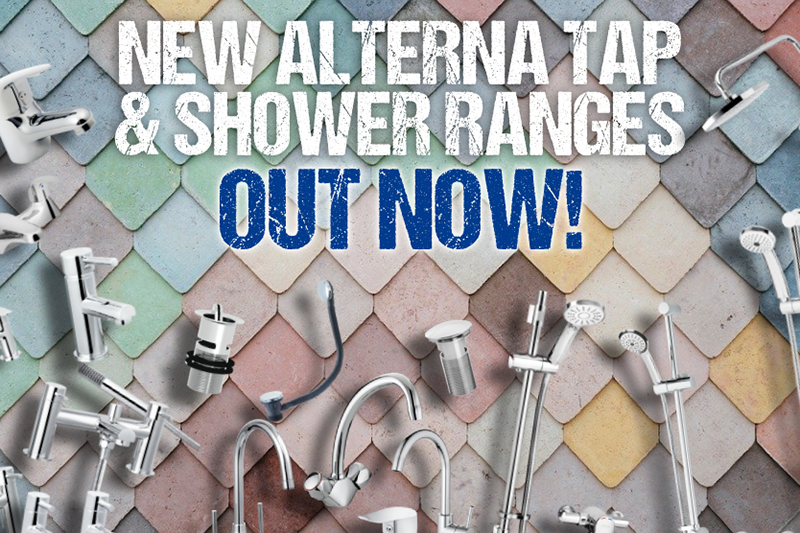 Graham Plumbers' Merchant has launched new-look Alterna collections for bathroom taps, kitchen taps, showers and wastes. Each collection includes new products alongside design updates to some of the most popular ranges and a host of new features.
The new Alterna Shower collection has a total of seven designs to choose from including the two new options in the Alterna Tagliamento range. Both thermostatic showers feature modern styling, with a cuboid mixer bar design and square shower heads making them ideal for any contemporary bathroom. Both are also easy to install with fast fix wall mounting brackets. The twin outlet version includes a single function handset and rainfall shower head to create a truly luxurious shower experience.
Other thermostatic showers in the collection have received design updates, including the Iseo and Verano, both of which feature cool chrome technology to ensure the bar valve stays cool to the touch, and the Sesio twin outlet shower that offers a softer, rounded counterpart to the Tagliamento.
In the Bathroom Tap collection there are four new ranges, all designed to complement the collection as a whole. The angular Brembo and crisply styled Liri will fit with any modern bathroom design, while the Ponza taps are ideal for those looking for a smoother aesthetic. Alternatively, for traditionally styled bathrooms there is the new Nure range.
In addition, the Ortona and Trade ranges feature new designs. The collection also includes both individual and mixer taps for baths and basins as well as bath fillers and bath shower mixers to provide options to suit any bathroom.
The Alterna Kitchen Tap collection features two new designs, the single lever Oglio and twin lever Rubicon mixer taps. Alongside these additions are the updated Volterra and Contract mixer products. The collection also includes the Alterna Genoa alongside the deck mounted Contract mixer and Trade pillar taps.
The fourth collection offers a range of bath and basin waste fittings, including three new products, a clicker basin waste, a rotary basin waste and a combi bath clicker waste.
Lucy Barriball, Senior Category Manager at Graham Plumbers' Merchant, said: "The updated Alterna collections offer a refreshed range with new products allowing greater choice for customers. The ranges have been designed with complementary styles to make creating an integrated and coordinated bathroom style simple and easy. The collections also have options to suit any bathroom, whether the design is striving for the latest in contemporary style or a more traditional look."