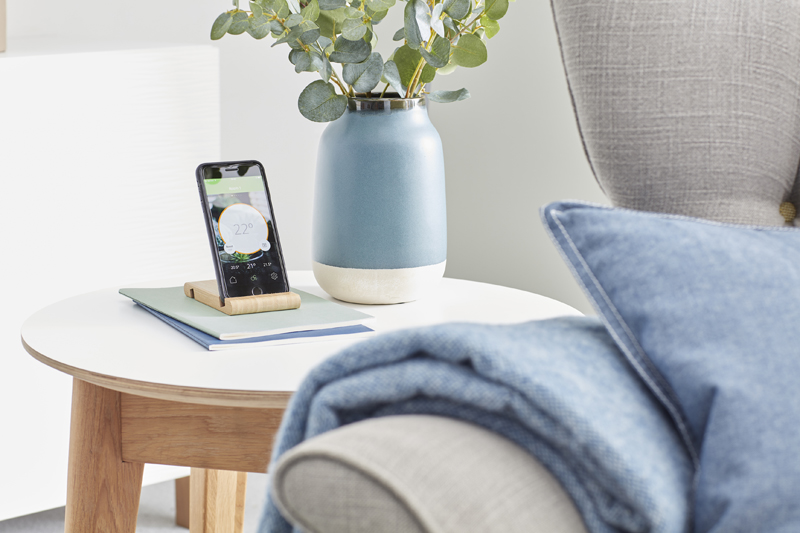 Drayton has announced a series of updates to its Wiser multi-room heating system.
Helping to improve the efficiency of the heating system, Drayton has updated its Wiser OpenTherm module. The new OpenTherm module allows boilers to continuously adapt their system temperatures by forming a connection between the boiler and heating control, providing real time room temperature demand updates. Once the heating control detects the home or individual room is reaching the desired set point room temperature, it will tell the linked OpenTherm boiler to lower the system temperature. By ensuring that the property stays at the correct set-point temperature, whilst using less energy, this helps contribute to an altogether more efficient heating system.
Additionally, the Wiser Heat app has been updated to include new functionalities. Under the new 'Functions' pull up tab, users will be able to locate the new 'Boost All' and 'Cancel All' features. 'Boost All' will increase the temperature across every room thermostat and radiator thermostat by 2ºC for one hour. After the one-hour period, all boosts will be deactivated and rooms will return to the scheduled temperatures. Alternatively, if the user wants to turn off the boost earlier, they can do so using 'Cancel All' in the same pull up tab. When using these new functions, hot water won't be affected in any way.
Remi Volpe, Managing Director at Drayton, said: "We know that efficiency is becoming increasingly important among homeowners, and knowing that getting the most from their heating system is a key factor when replacing elements such as a heating control or boiler. Our updated OpenTherm module has been updated with exactly this in mind, and this clever technology helps installers offer maximum efficiency from the systems they are fitting.
"The new 'Boost All' and 'Cancel All' functions are also designed to make the homeowner's experience using Wiser that much more efficient too. Now, users can alter the temperature across the whole house with just a single tap of a button, rather than having to boost each room individually. These updates will be rolled out across all existing Wiser systems currently installed, meaning customers will benefit from these new features by simply updating their app."
Wiser also boasts a number of other smart heating features including: Eco Mode, Away Mode, geofencing through IFTTT, voice control through Amazon Alexa and the Google Assistant, Open Window Detection, and device lock. Working together, these functions help users get the most out of the system.
Installers can learn more about Wiser, including installation best practice and troubleshooting tips, on the Wiser training tour. Alternatively, a Wiser module is available on Drayton's new online training academy, 9º Know How.