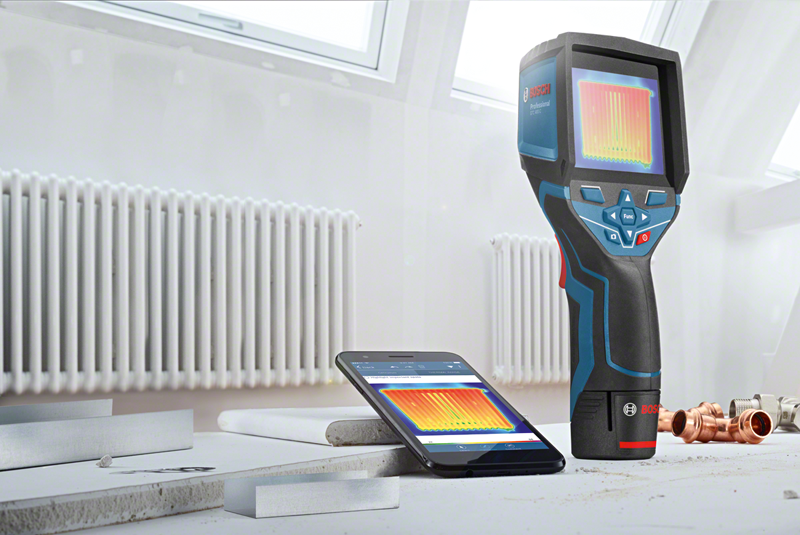 Bosch Professional has added an extra dimension to its power tool and measuring device range with the launch of a high-quality thermal camera. Its development draws on the manufacturer's deep understanding of practical problems faced by electricians, plumbers, builders and other trade professionals. The Bosch GTC 400 C Professional Thermal Camera is designed to bring competitive advantage to their businesses at an affordable price.
Multiple uses
It will be of help in numerous applications, including installation and maintenance of heating, air-conditioning, electrical systems, windows, drywalls and building insulation. Just point the device at your work area and you will quickly gain a clear and reliable picture of the conditions you have to tackle. Its measurements, which include thermal images, visual images and temperature values, accurately show the pattern of heat distribution across the room or feature surveyed.
The thermal camera will reveal, for example:
Locations and courses of cables and heating pipes in walls and floors
Sources of draughts, dampness, water intrusion and pipe leakage
Weak points and overloads in electrical installations
Condition and effectiveness of heat insulation
Functionality of heating systems, and presence of radiator vents
Clarity
Issues which are difficult or impossible to see with the naked eye become clearly evident through high-resolution coloured pictures which are easy to interpret and demonstrate to your client. Visualisation is exceptionally sharp thanks to high pixel counts.
The device is equipped with a visual camera as well as an infrared sensor. This allows a thermal image to be easily superimposed onto a photo of the workplace, helping to put the data into context.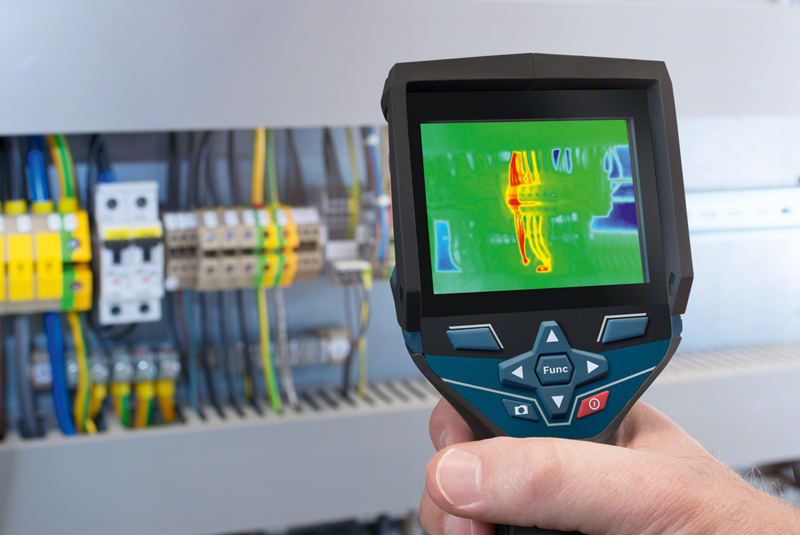 Speed
Bosch connectivity enables rapid transmission of images and data, wirelessly, to your smartphone or tablet, via the thermal camera's inbuilt WiFi Hotspot and the Bosch Measuring Master app. You can share them immediately with your client, even while you are still on site. The device also has a micro USB, through which you can quickly move those files to your computer, using GTC transfer software, and on to your client in a report format.
With the GTC 400 C, measurement takes seconds, problems are spotted and acted upon sooner, and accurate information avoids time-wasting errors by ensuring that project plans are based on sound knowledge.
Simplicity
The camera's highly intuitive interface makes it simple to take precise measurements and produce professional outputs. At a price that fits the average tradesperson's budget, you can present your clients with pictures and documentation of high quality.
Other user-friendly features include a large (3.5 inches) colour display, robust construction and IP53 sealing against dust and splashing water. Power supply is flexible, offering a choice between 12 V Li-ion battery packs and standard alkaline AA batteries.
For further information, visit: www.bosch-professional.co.uk or follow @BoschPro_UK on Twitter.