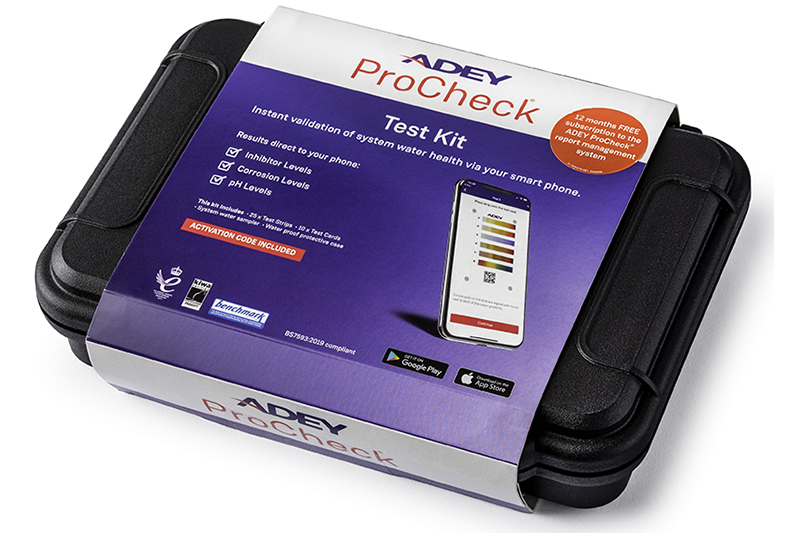 Adey has unveiled a next generation water testing kit which provides lab-style reporting and interpretation instantly to a smartphone, enabling installers and engineers to test and treat water quality issues in one site visit.
The new Adey ProCheck now makes it even easier for installers and engineers to tackle the issue of poor water quality with onsite analysis of system water via an app, providing instant certified and trusted validation of system health.
The ProCheck test kit and app uses advanced technology that makes it easy for installers to show homeowners the results immediately, indicating whether further action is required or providing reassurance that the system water has been treated and the system is healthy. This also benefits the installer by reducing the need for a second visit as any quality issues that are identified can be dealt with there and then.
How does it work?
Whilst on site, a water sample is taken from the central heating system and a dip test is carried out using the dedicated ProCheck strips supplied with the kit. This strip is placed on a test card before being scanned to the app using the phone camera, to be analysed and verified. Adey ProCheck has been tested and the process approved by KIWA Gastec, to specifically look at the three main areas of concern; protective inhibitor levels, corrosion, and the dangers posed by the pH level present. A report is immediately created with the results and actions required.
Adey understands that it's often not easy for installers to explain to customers the importance of good water quality in the system and the need to carry out water treatment in the home. ProCheck is designed to be a valuable piece of kit which not only visualises the necessity for water treatment, but the instant results negate the need to return to a property for remedial work.
"While dip testing is the current method used to check water quality on site, the results provide only a measure of the level of inhibitor in the system and are open to interpretation in regards to the actions required," says Helen Isherwood, Innovations Director at Adey.
"Laboratory tests are extremely robust and test for a wide range of issues within the system water. However, using a laboratory requires the test to be posted and for the installer to wait for results before returning to take remedial action. Not only does ProCheck provide an instant result for three main areas of testing, it ensures a level of accuracy that's previously not been possible in the field. Crucially, it also means that if the results show remedial action is required, the installer can rectify the issue immediately rather than having to book a return visit.
"In accordance with British Standards BS7593:2019, central heating system water should be tested on commissioning, as part of the annual service, and a full laboratory water test should be carried out every five years. The addition of an onsite test being carried out annually during a service has huge benefits for the installer. Water quality issues are one of the most common causes of boiler breakdowns, but by checking it every year it is easier to keep on top of any potential problems. Being able to show customers independent verification of their system water quality helps to demonstrate the added value that installers are able to provide. Management of multiple jobs is also made more efficient through an online portal and homeowners can see results immediately."
The Adey ProCheck kit is available through plumbing and heating merchants and comes in a compact hard case and includes a testing pot, 25 dip test strips and 10 test cards. Purchase includes a year's free subscription to the report management system where users can generate and email test reports directly from the app and view all their historic reports over time.