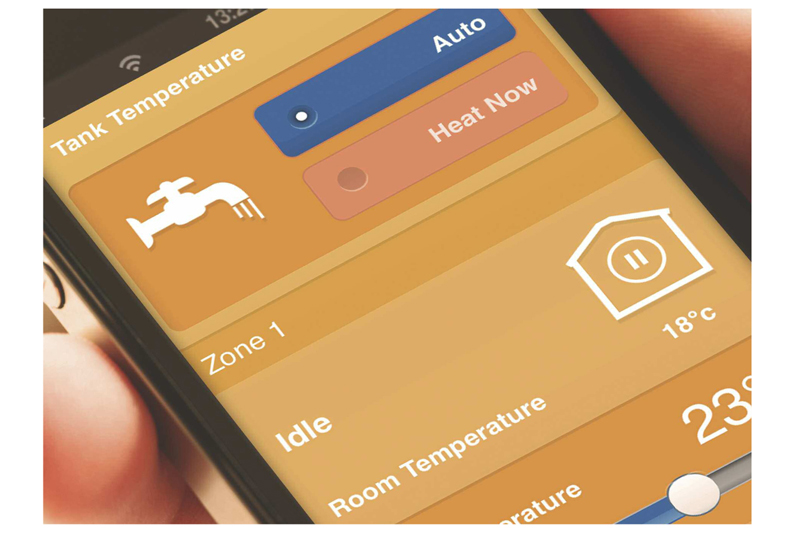 Mitsubishi Electric recently unveiled a new 4kW Ecodan air source heat pump designed specifically to tackle the needs of new-build homes, with a system that matches the hot water requirements whilst still meeting the lower heating demand of today's well insulated properties. PHPI reports on the launch.
New homes built today differ from previous ones in that the requirement for hot water is likely to exceed the demand for heating for the first time. A reduction in fabric U-values and thermal bridging has reduced the energy requirements for heating and also allows for smaller plant.
"What is needed is a new way of delivering energy efficient heating and hot water", explains Jordan Jeewood, Ecodan Technical Expert at Mitsubishi Electric. "We have engineered the Ecodan QUHZ monobloc system to meet this need by providing exceptionally high efficiency in the production of hot water, along with renewable space heating for the home."
The Ecodan QUHZ unit is MCS-approved and designed to be straightforward to install, delivering water at 70°C to a packaged 200-litre thermal store. From this store, mains water is heated directly up to 65°C via the manufacturer's plate heat exchanger, meaning the homeowner receives hot water on demand.
"This model uses CO2 as a refrigerant to ensure a large delta T between the flow and return temperatures to and from the outdoor unit," adds Jeewood. "This delivers the high levels of efficiency that enable the system to meet the high hot water, low heating requirements of today's new-build properties."
As a nation, we have not been building enough new homes to meet demand and the UK Government is now pushing for more construction. At the same time, legislation is forcing housing developers to use products and practices that reduce the energy required for space heating and hot water is becoming the dominant load in new dwellings.
This means that high efficiency water heaters are required for new-build dwellings to help tackle CO2 emissions and reduce running costs, with air source heat pumps already recognised by the government as an important part of that solution. Mitsubishi Electric has therefore developed this new Ecodan model to deliver a viable way of meeting the new hot water and heating demands of these new homes.
The government is already committed to reducing CO2 emissions by 80% of 1990 levels by 2050, and achieving a 34% reduction in greenhouse gas emissions by 2020. Buildings account for 44% of all UK CO2 emissions (more than industry or transport) and space heating and hot water account for almost 75% of total energy consumed in homes.
In addition to high efficiency levels, with a Seasonal Co-efficient of Performance (SCoP) of 3 for hot water and 2.9 for heating, the Ecodan QUHZ poses no risk of legionella because it does not store hot water. At the same time, it is still able to provide a variable hot water capacity, with water heated directly as required.
The system also includes automatic in-built energy monitoring, using the company's MELCloud internet-based system, which allows for full control and monitoring from anywhere in the world. The QUHZ model also offers exceptional noise levels, with a whisper-quiet 41.2 dB(A) at 1.5 metres from neighbouring properties making it suitable for almost any new-build scenario.
The Ecodan range has offered the first MCS certification for an inverter-driven unit, as well as being the first to receive the Noise Abatement Society's 'Quiet Mark', the first to offer intelligent room sensing as standard and the first to include remote energy monitoring straight from the factory. This new addition means that there is an Ecodan model suitable for both new-build and retrofit in almost any situation.