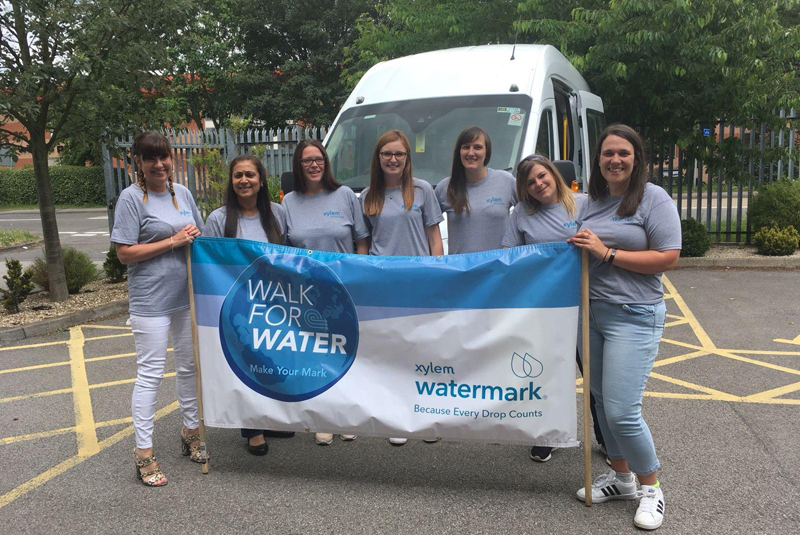 Xylem teams across the UK & Ireland have celebrated a successful few months of awareness and fundraising activity as part of its Watermark initiative.
Activities ranged from taking part in the 24-mile Yorkshire Three Peaks Challenge, to community enhancement projects in Axminster, Farnborough, Basingstoke and Scotland. Many employees have taken part in the initiative, to raise awareness of water-related issues around the world.
Kieran Gagg, Watermark Ambassador for UK & Ireland, said: "Our team across the UK & Ireland is doing an amazing job this year. It is truly uplifting to see so many people getting behind such a good cause, while also making a difference in their own communities."
In Scotland, a 12-strong team of volunteers cleaned the area surrounding The Kelpies, two metal structures weighing in at 300 tonnes. The Kelpies, which are based at The Helix, an eco-park that stretches between Falkirk and Grangemouth, are the world's largest equine structures. Described as "a symbol of modern Scotland" by the creator, sculptor Andy Scott, they celebrate the working horses that were the first source of locomotion for barges along the Forth & Clyde canal.
Other UK and Ireland initiatives have included the construction of a roadway at Ash Lock on the Basingstoke Canal as well as lock painting and a canal clean-up on the Banbury Canal.
Kieran continued: "Each of these initiatives celebrates the impact of clean, functioning waterways on our prosperity and growth. Whether it comes from the Ribble River in the Yorkshire Dales, or the Forth & Clyde canal: water is, and always will be, one of our most precious natural resources."
Watermark was launched by Xylem to provide safe water and education to communities around the world. It undertakes projects and charitable initiatives each year to raise money for, and awareness of, a range of water-based issues.
Kieran concluded: "Safe access to water and basic sanitary facilities remains out of reach for millions of people. In the 21st Century, you're more likely to have a smartphone in your pocket, than you are to have access to a clean, functioning toilet.
"Challenges such as urbanisation and global conflict will only exacerbate the problem, which is why initiatives such as Watermark are all the more important. We don't just work with charities and non-profit partners to provide access to clean drinking water; we also monitor our installations to ensure that this access remains in place after the volunteers have gone. The difference this can make to the health, prosperity and equality of a community and its residents should never be underestimated."
To learn more about Watermark, or to get involved, visit http://xylemwatermark.com/.