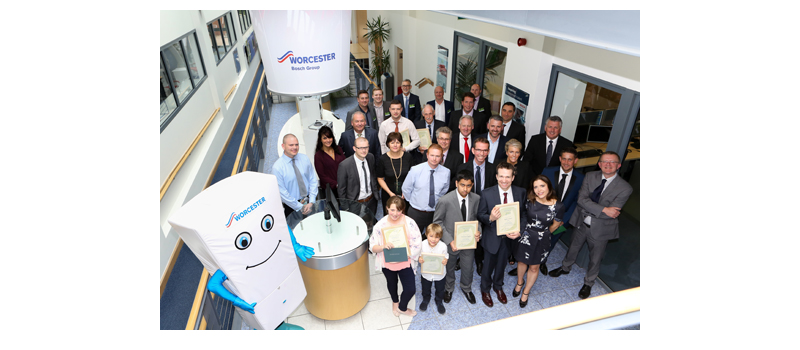 Leading manufacturer Worcester, Bosch Group has unveiled the winners of its annual Environmental 2020 Awards, held in recognition of those who have made an outstanding commitment to tackling climate change through the use of high-efficiency heating technologies.
The awards, now in their 15th year, highlight best practice from installers who are making strides to conserve the environment by embracing the environmental potential of domestic properties.
Six installers and three specifiers from across the UK received their prize from the event's special guest, Andy Bradley, Director at Delta – Energy & Environment, as they were rewarded for their commitment to improving the country's carbon emissions at a prestigious ceremony held at Worcester, Bosch Group Headquarters in Worcester.
The winners for each of nine categories, selected from well over 100 entries, are as follows:
Greenstar gas-fired boiler installation: Simon Smart – Boilercare (UK) Ltd, Norfolk
Greenstar oil-fired boiler installation: Neil Pleasants –  The Heating Company, Suffolk
Greenstore and Greensource heat pump installation: Darren King – K Lewington Heating & Gas Specialists Ltd, Leicestershire
Total system solution installation: Paul Lammond – Streetly Gas & Plumbing Ltd
Greenspring instantaneous water heater installation: Doug Hawkins – Town & Country Plumbing & Heating Ltd
Housing Association specification: Broadacres Housing Association, North Yorkshire
Housebuilder Specification: Grace Homes Limited, Northamptonshire
Local Authority Specification: London Borough of Barking and Dagenham Council
Worcester also takes the opportunity to recognise the artistic efforts of young people up to the age of 16 whose artwork has been inspired by energy efficiency and climate change.
Six year old Finley Crookes from Merseyside, 11 year old Jasmin Walker from North Yorkshire, and 14 year old Mohommed Rafique from Kent were each presented with £500 of shopping and leisure vouchers for their efforts.
Carl Arntzen, Worcester's Managing Director, commented: "The Environment 2020 awards are our chance to celebrate the industry's champions of efficient and renewable technologies. The fact that so many are committed to protecting our planet for future generations is inspiring, and year on year I am impressed by the calibre of the entries we receive.
"Our Environment 2020 Awards have been a huge success since their introduction back in 1999 and we look forward already to seeing more examples of excellent installation and specification work when we begin judging entries next year.
Andy Bradley, Director at Delta – Energy & Environment, added: "It is my hope that, in celebrating these wonderful examples of pairing traditional heating and hot water sources with renewable technologies, we can encourage others to do the same and reduce our reliance on fossil fuels in ever-more efficient and cost-effective ways.
To find out more about Worcester, Bosch Group's Environment 2020 Awards and to download an entry form, visit www.worcester-bosch.co.uk.