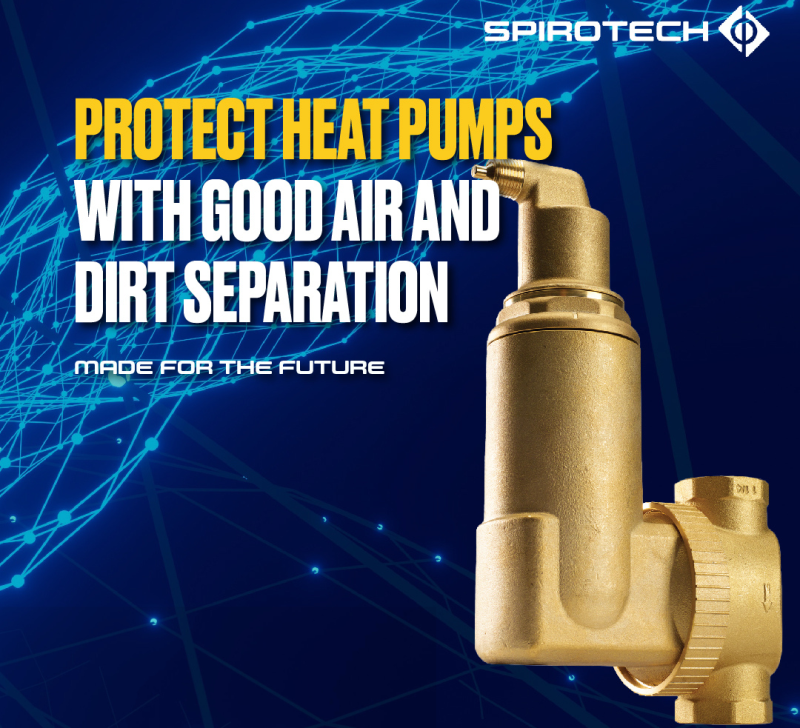 Spirotech is helping heating engineers prepare for the future with its heat pump campaign, as well as giving them the chance to win a Knipex toolkit worth over £600.  
With heat pump installations increasing, Spirotech's 'Made for the Future' campaign aims to provide heating engineers with everything they need to know about water quality in this type of system, and test their knowledge to be in with the chance of winning.  
A new brochure, which can be downloaded on the Spirotech website, helps installers understand how air and dirt can form in the system, as well as how these contaminants can impact the most sensitive components of a heat pump.  
Additionally, the brochure explains the solutions available to remove air and dirt from a heat pump system, including Spirotech's new heat pump offer which consists of the SpiroVent RV2 and SpiroTrap MBL, SpiroCombi MB3, SpiroCross AX-J and SpiroVent Superior S250 vacuum degasser.  
Installers are then challenged to test their knowledge with Spirotech's heat pump quiz, which upon completion they can register their details to be in with the chance of winning a Knipex toolkit worth over £600. 
Rob Jacques, Spirotech UK Business Director, commented: "The move to renewables has been an important topic over the past 12 months, and will continue to be in the years to come as more installers look to upskill. We recognise that for installers, many questions are likely to arise as they familiarise themselves with heat pump systems, and at Spirotech we're dedicated to supporting them on every step of the way. Our new campaign and heat pump brochure includes everything they need to know in relation to water quality and heat pumps, and this is a topic we're looking forward to discussing further at our new training centre."  
For more information about Spirotech's Made for the Future campaign and to take the quiz, visit www.spirotech.co.uk/heatpumpinstaller