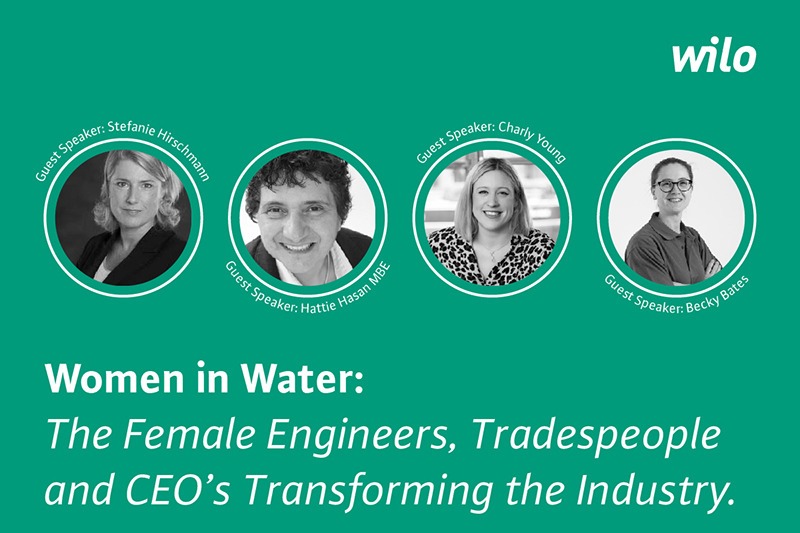 Wilo UK is to host a webinar leading the conversation on how female engineers, tradespeople and CEOs are transforming the water industry and other male-dominated sectors.
Taking place on Thursday 12th November at 2pm, the webinar will be the penultimate in a series hosted by Wilo UK and will discuss why it's important for women to get into trade, engineering and senior level roles, as well as the obstacles they face and the changes driving the industry forward. It will also offer guests the chance to ask questions and expert advice.
2020 marks the 50th anniversary of the Equal Pay Act but, due to COVID-19, gender pay gap reporting has been suspended for this year and there are reports that the pandemic has been disastrous for women's economic progress.
Women currently account for just 4.4% of all tradespeople. However, this is considerably higher than the 2.1% representation a decade ago, offering some hope the industry is heading in the right direction.
Disparity can also be seen in other connected sectors, such as engineering, with only 12.37% of all engineers being women in the UK. There is also a lack of equal gender representation in high level, executive roles – with only 7% of FTSE 100 companies having a female chief executive officer at the helm of their organisation.
The webinar will provide a needed discussion on driving change within these industries, with guest speakers including: Stefanie Hirschmann, SVP Group Procurement & Supply Chain Management at Wilo Group, Hattie Hasan MBE, Founder of Stopcocks Group Ltd & National Register of Tradeswomen CIC, Charly Young, Co-Founder & CEO of The Girls' Network, and Becky Bates, Owner of BB Plumbing.
Lee Tebbatt, Managing Director of Wilo UK, comments: "At Wilo, we want to set a benchmark for supporting women in the industry and there is a huge drive internally to support this. At Wilo Group, 37% of the workforce is female and we have received the Total Equality Award for promoting equal opportunities within the workplace.
"The diverse panel has a range of experience and knowledge to share both how we can support women in the industry now, as well as encourage a new generation of female engineers, construction workers and tradespeople through guidance in schools and mentorship schemes. This is a topic that should be at the forefront of the industry and we look forward to hosting this important discussion."
To register your interest for the webinar, click here