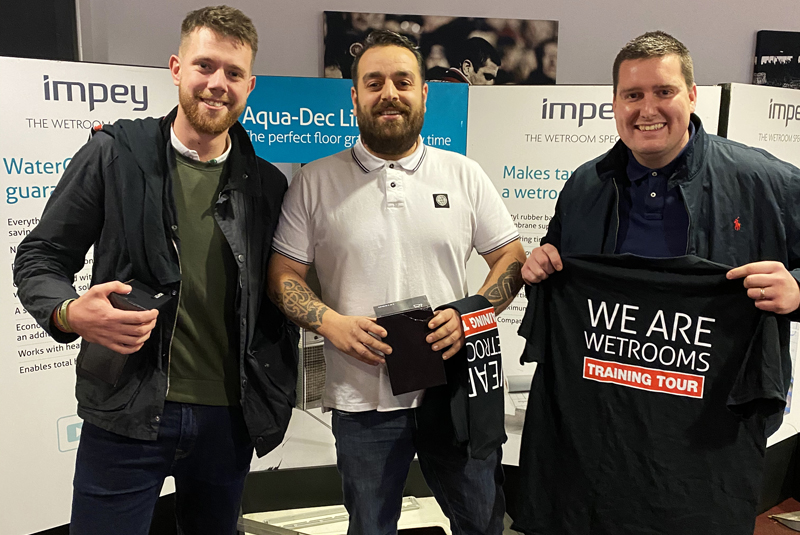 Now entering its fifth successful year, the Impey We Are Wetrooms installation training tour has welcomed over 1,000 installers, retailers, plumbers and tilers. Throughout 2020, the specialist wetroom training event will tour nine locations, giving learners the opportunity to develop or expand their wetroom fitting expertise; and booking is now open!
Understanding how to fit, waterproof and tile a wetroom are essential skills in today's bathroom sector. The value of the wetrooms market has experienced good growth since 2014 and continues to offer significant growth potential in the UK bathroom market. It is estimated that around 6% of UK homes now have a wetroom installation.
In 2018, the value of the wetroom market was estimated at £92 million at Manufacturers Selling Prices (MSP). This represents an increase of over 16% over the last 5 years.
Impey's 'We Are Wetrooms' UK training tour was launched in 2016 to meet prevalent demand for educational, 'hands-on' wetroom installation training. Impey decided to take its industry-leading training programme on the road and, following four years of sell-out dates, increasing numbers of installers are keen to benefit from the opportunities afforded from wetroom installation.
The We are Wetrooms tour 2020 kicks off in March, combining extensive training on all Impey's market-leading wetroom solutions including the award-winning Aqua-Dec EasyFit and Aqua-Dec Linear floor formers. Also covered as part of the training day is the installation of Impey's Waterguard tanking solution, and the Aqua-Grade and Aqua-Grade Linear screed templates for new pour concrete floors. New for 2020, a spotlight on pumped waste options includes information, training and demos from Whale Pumps.
Lead by Shaun Hunt, Technical Field Manager, with over 20 years' experience in the sector, the training day incorporates:
*Wetroom installation and floor formers
*Wetroom installation into a wooden or concrete floor
*How to achieve the accurate wetroom gradient
*Drainage: gravity fed and pumped waste
*Leak-free water proofing
*Tiling a floor former or wetroom tray
Sarah Hodgson, Brand Manager, says: "We're very proud to be launching our fifth anniversary 'We Are Wetrooms' training tour and looking forward to welcoming this year's attendees! There continues to be lots of new business opportunities for trained wetroom installers across domestic, commercial and healthcare sectors. Through the 'We Are Wetrooms' tour we're really pleased to be able to share our knowledge and help installers and retailers access those opportunities!"
Small group sizes, hands on demos and one to one Q&As with the Impey training team ensure that the day can be tailored to individual skill levels and requirements.
The 2020 'We Are Wetrooms' tour dates are:
Wednesday 18th March – Coventry: Ricoh Arena
Wednesday 8th April – Plymouth: Cricket Club
Wednesday 29th April – Liverpool: Everton Football Club
Wednesday 20th May – Scotland: Murrayfield Stadium
Wednesday 10th June – London: Twickenham
Wednesday 8th July – Swansea: Liberty Stadium
Wednesday 2nd September – Belfast: Windsor Park
Wednesday 14th October – Sunderland: Quayside Exchange
Wednesday 11th November – Southampton: Ageas Bowl
The day runs from 9.30am to 3pm and includes lunch. A one-off registration fee of £15 secures a space on the date of your choice. Places are limited at each venue. Visit: www.impeyshowers.com/training to secure your spot.
We attended a We Are Wetrooms training event on the original tour back in 2016. Check out the video below for a taste of what you could experience…