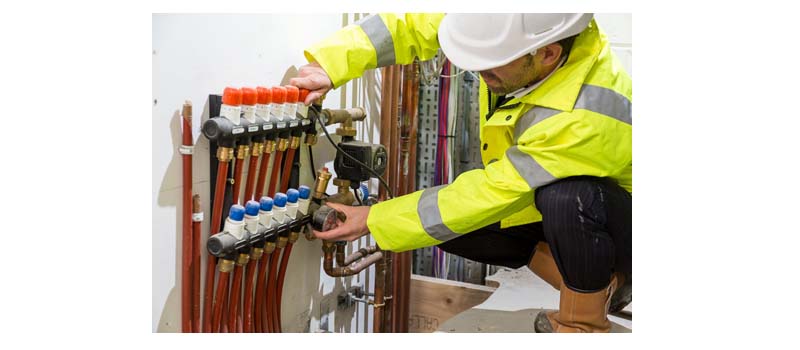 For the conversion, upgrade and extension of a Grade II listed cottage in Lincolnshire, a comprehensive Hep2O underfloor heating system from Wavin has been specified to provide a reliable, cost-effective and efficient heat distribution throughout the property.
Built in the late 17th Century, the main part of Tillbridge Cottage in Sturton by Stow is Grade II listed, and has had alterations and additions in the 19th and 20th Centuries. The transformation of the house project saw the demolition of a single storey wing and its replacement with a single storey front extension and two storey gable end, a new single storey extension to rear as well as a new garage and outbuilding.
With a number of interesting features throughout the remodelled design – including an outside sheltered 'open' area that is brick built round the sides and back, but open fronted, along with a large gym, changing facilities and a steam room – the client required a high performance heating system which would not only offer reduced CO2 emissions and low running costs but could also be seamlessly integrated into the unusual design. The Hep2O underfloor heating system from Wavin was up for the challenge, providing a fast, simple and non-intrusive installation, along with the performance required.
For the new build element of the project, the Hep2O system has been installed using the modular wood system over timber joists to provide a cost effective and easy solution for the project to incorporate underfloor heating.  The modular wood system is essentially a 2 in 1 product installed in the same way as standard chipboard flooring. The remainder of the new build side of the project is on screeded floors using pipe and staples and will be partnered with a heat pump situated at the other end of the property.
The Hep2O system is manufactured and Kitemarked to BS EN ISO 21003, and under a Quality Management System which satisfies BS EN ISO 9000 requirements. It is also covered by a 100 year guarantee against defects in material or manufacturing – offering the client total peace of mind.
Comprising panels, piping, manifolds and heating controls, the Hep2O system made the installation simple, fast and straightforward. As well as making little difference to the floor depth, they are also lightweight, easy to cut and handle, can withstand point loadings and can be installed by just one person if necessary.
With its proven design flexibility and adaptability, the Hep2O system has played a key role in the conversion of this period cottage which is set to benefit from an energy efficient, high performance and cost-effective underfloor heating system for many years to come.