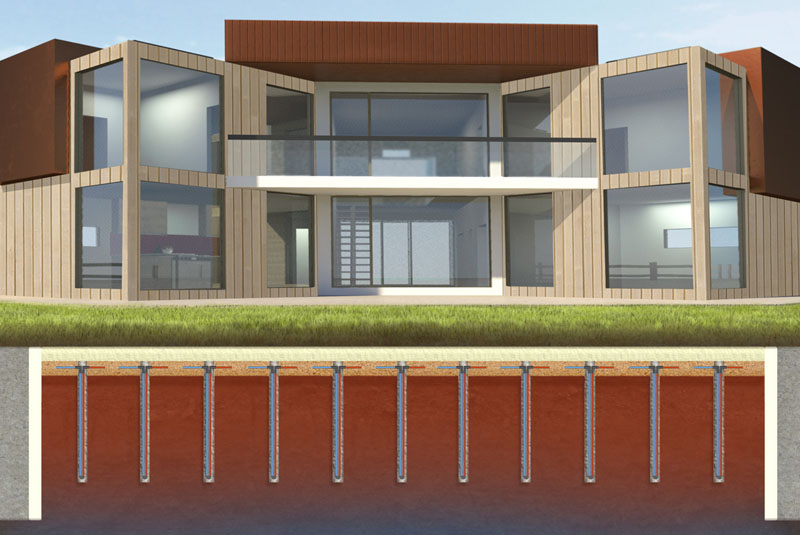 More new homes across Britain could become energy self-sufficient thanks to a new partnership between renewable energy system developers, The Zero Carbon Solution and Vaillant.
The companies have joined forces to create an affordable and self-supporting heating system that is easy to install, and compatible with a wider range of property sizes than ever before.
Vaillant's flexoTHERM and 3kW geoTHERM mini heat pumps will form part of the solution, by using an inter-seasonal heat store known as the Earth Energy Bank, patented by The Zero Carbon Solution.
The technology uses an array of Photovoltaic-Thermal solar panels to collect both thermal and electrical energy that can be stored and used all year round. The system then utilises a Vaillant ground source heat pump to extract the heat from the earth. Unlike traditional ground source systems however, it doesn't require long trenches or deep boreholes, making it ideal for properties with limited space.
The simple installation process and affordable technology results in a heating system said to be ideal for dense housing developments. The Zero Carbon Solution also project manages the installations, bringing together renewable technology providers, architects and building consultants, while Vaillant installers provide the plant room equipment.
Michael Goddard, Founder of The Zero Carbon Solution, said: "We're thrilled to be working with Vaillant. Our collaboration means that developers are now being offered a more affordable renewable heating system that is easy to install and compatible with a greater range of new build properties. Our technology is unrivalled and we're already delivering on our ambition to become the default renewable energy system provider for new builds."
John Bailey, Commercial and Renewable Systems Director at Vaillant, commented: "We were delighted to partner with The Zero Carbon Solution to develop a truly innovative heating solution for house builders. The system has been specifically designed to inspire commercial builders who are looking for new ways to incorporate renewable energy efficiency into their properties, whatever the size.
"We encourage anyone who it interested in finding out more about what the next generation in renewable technology can do for them, to get in touch with The Zero Carbon Solution."
The Zero Carbon Solution is aimed at commercial builders looking to incorporate renewable technologies within their projects. First installed in the Solar House in 2013, the system has since been included in homes of all sizes.
For more information visit: www.zerocarbonsolution.co.uk