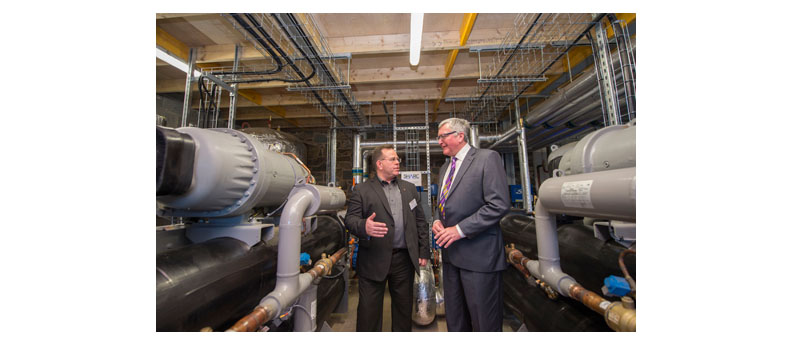 Sewage is now being used to power a heating system at the Scottish Borders Campus.
Energy Minister Fergus Ewing recently launched the UK's first SHARC energy recovery system at the campus in Galashiels.
Backed by investment from Equitix and the UK Green Investment Bank, the SHARC heat recovery system intercepts waste water from a sewer close to the local treatment works operated by Scottish Water.
The system uses a heat pump to amplify the natural warmth of waste water and the heat produced is being sold to Borders College under a 20-year purchase agreement, producing savings in energy, costs and carbon emissions.
The system now provides around 95% of the heat needed by the Galashiels campus and does not impact on the normal operation of the local waste water network.
Russ Burton, CEO of SHARC Energy Systems, said:
"We are delighted to see the first UK installation of the SHARC system up and running at Borders College. This has been an extremely important project for us in the UK and Europe, and we have seen a lot of interest in the system elsewhere."
Background
Launched in June 2014, SHARC Energy Systems is a UK organisation specialising in sewage heat recovery technology that is a sustainable alternative energy source. Claimed to be unique in the UK and Europe, the system generates energy-saving, cost-effective and environmentally-friendly solutions for heating, cooling and hot water for commercial and residential buildings.
SHARC Energy Systems is a wholly-owned subsidiary of International Wastewater Systems Inc., and its technology is developed by its parent company based in Vancouver, Canada.
The waste water technology system was developed by the founding team of technical and engineering professionals who have over 100 years' combined experience in the heating, ventilating and geo-exchange industries. The system utilises a clog-proof raw sewage filtration system and Heat Exchange technology that conducts the heat from untreated waste water.
SHARC Energy Systems brings the technology to the UK for the first time and provides a full design, manufacture and installation service. The SHARC system is suitable for both new build and retrofit projects on residential and commercial developments.