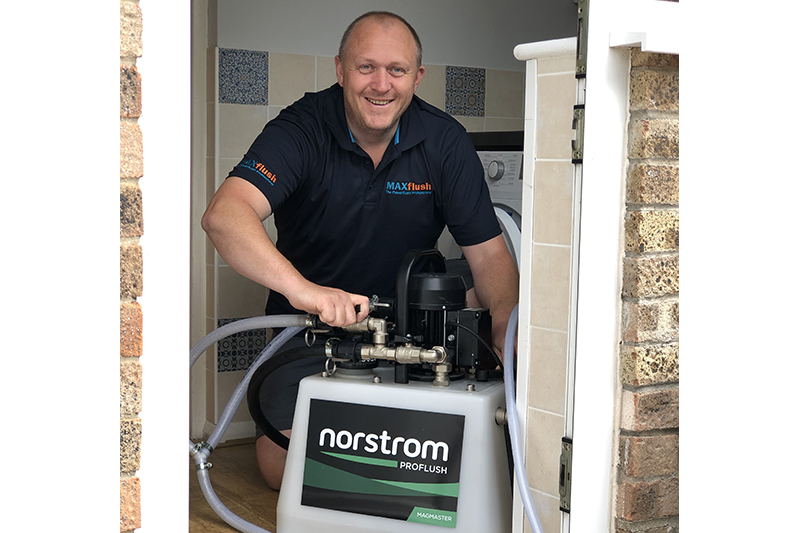 Barry Maxted, who has more than 15 years' experience in the industry, has made the most of his time on furlough and started his own powerflushing business. MAXFlush offers a professional powerflushing service to heating engineers and homeowners.
MAXFlush utilises the Norstrom Proflush Professional range of machines as well as the Adey Magnacleanse to ensure that each system is thoroughly cleaned.
MAXFlush is also able to offer heating system upgrades including installing deaerators – as well as system water analysis and testing, and the installation of system filters and TRVs.
Barry, who has previously worked at Fernox, Alpha Heating Innovation and, most recently, Norstrom ProFlush, was put on furlough during lockdown. Last month he was made redundant. Given how many other colleagues had also lost their jobs as the result of the pandemic, Barry knew finding a new role would be tough, so decided to take matters into his own hands.
"I had often thought about going out on my own in the past, as I could see there was a gap in the market for a specialist powerflushing service, so I decided to take this opportunity to do something about it," said Barry.
"Powerflushing is absolutely vital for the long-term preservation of heating systems and boilers, and with manufacturers selling their products with longer and longer warranties, the condition and maintenance of the system water is more crucial than ever.
"However, depending on the state of the system, it can take anything from four to 10 hours to complete a full powerflush and many heating engineers simply don't have the time, equipment or experience to do it themselves."
And that is where MAXFlush comes in. It utilises the latest equipment on the market to provide the powerflushing service for them, meaning they don't need to invest in any specialist equipment themselves, or spend a day or more powerflushing when they could be working on other jobs.
"With MAXFlush, heating engineers who are unable to complete a powerflush themselves are still able to offer it to their customers, safe in the knowledge that they will receive a professional, friendly and reliable service."
To find out more, or to book MAXFlush's professional services, visit www.maxflush.co.uk, contact [email protected] or call 07963 468498