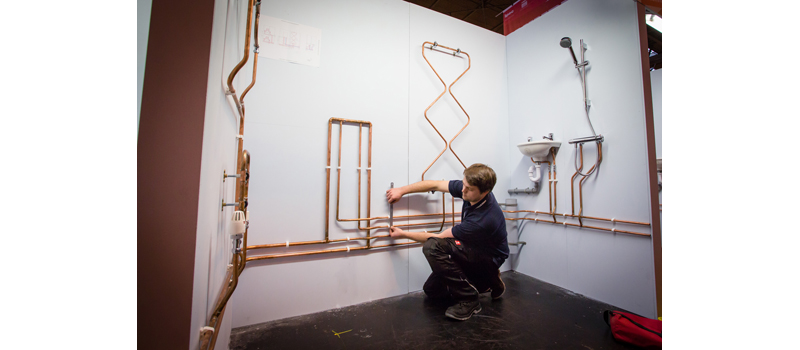 The 10 competitors who will compete in the 2015 SkillPLUMB UK final have been named, following a series of challenging regional heats.
All will now go head-to-head in a three-day practical task on 19th 21st November at The Skills Show, the UK's largest skills and careers event, at the NEC Birmingham – where over 60 WorldSkills UK national competitions will be held across different occupations.
In the quest to be crowned SkillPLUMB champion, contestants will have to install a domestic central heating system including bespoke radiators, towel rail and hot and cold pipework to a simulated kitchen and bathroom.
The finalists, listed with their training provider and employer details, are:
Alex Rooney, South West College/CITB NI, David Lindsay Plumbing & Heating
Algirds Balta, Borders College/SNIPEF, Greenheat Renewables
Daniel Doughty, Coleg Sir Gar, E Jones Plumbing & Heating
Daniel Martins, EAS Mechanical/BEST, Briggs & Forrester Group
Gavin Rice, Southern Regional College/CITB NI, Seamus Matthews Ltd
Matthew Gorrie, Perth College/SNIPEF, LW Haddow Plumbing & Heating
Matthew Jakeman, Bedford College, Pronto Plumber
Owen Boswell, Suffolk New College, Sleepsafe
Richard Wilson, North East College Scotland/SNIPEF, Sugplumb
Thomas Strong, Lakes College, Russel Dicks
SkillPLUMB has The Copper Initiative as its premier sponsor and is organised by BPEC. For more information, visit www.bpec.org.uk/the-bpec-charity