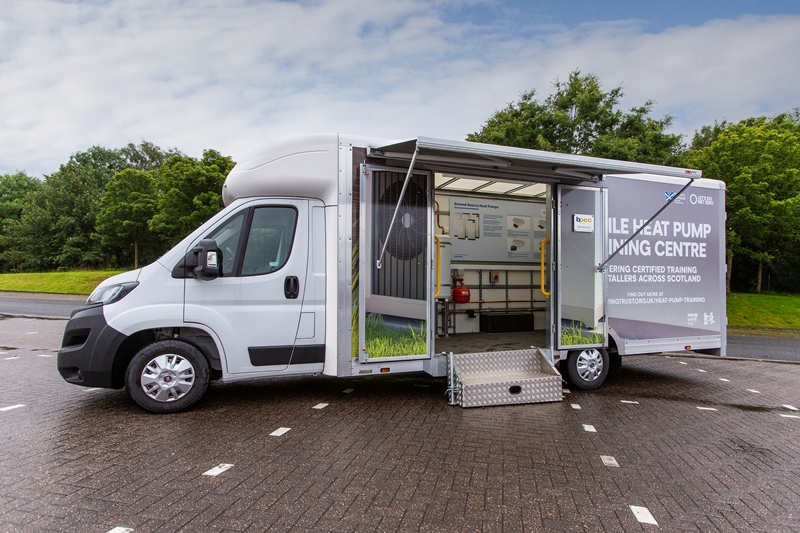 A new BPEC certified approved mobile training and assessment facility, hosted by South Lanarkshire College is now available to colleges across Scotland to provide heat pump training to heating installers. The service will focus on rural and remote areas and in places where there isn't currently college training provision. The mobile centre will also act as an extra training facility for colleges responding to surplus demand for heat pump training. 
Installers will be able to visit the mobile centre to be trained and certified on heat pump installations and also to gain their Water Byelaws/Regulations and Domestic Vented and Unvented Hot Water Storage qualifications.  
The mobile training facility was launched by Mr Graeme Dey, Minister for Higher Education, Further Education, and Minister for Veterans at South Lanarkshire College on Wednesday 2 August.  
The project has been fully funded by the Scottish Government and has come to fruition thanks to a collaboration between Energy Saving Trust, Energy Skills Partnership (ESP), South Lanarkshire College, and heat pump manufacturer NIBE Energy Systems. 
Jim Brown, Director at ESP said: "The launch of the Mobile Heat Pump Training and Assessment Centre is the latest development that will allow industry to access training and assessment facilities no matter where they are located in Scotland. The facility will provide a hugely flexible opportunity for industry to gain the skills required to help us meet the Net Zero targets and we are delighted to have worked with Energy Saving Trust, South Lanarkshire College and NIBE Energy Systems in developing the vehicle."