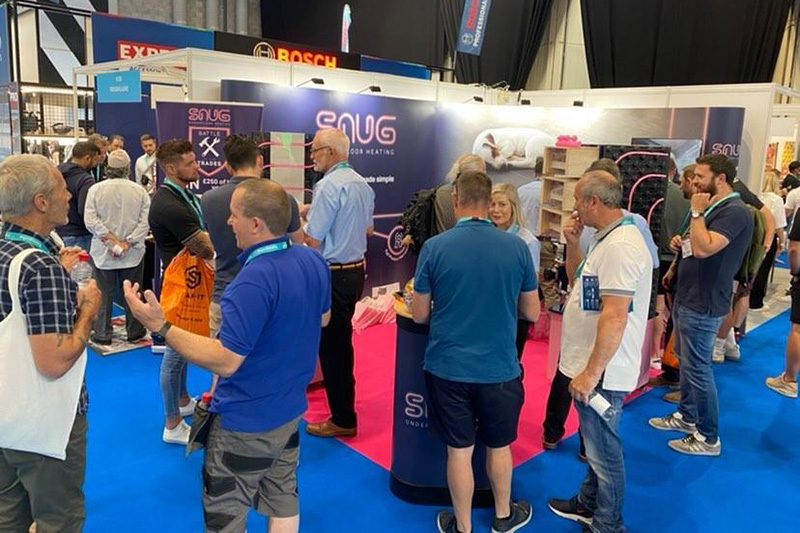 Snug Underfloor Heating quizzed almost 150 participants at the recent Installer Show to reveal the biggest challenge facing installers when it comes to underfloor heating.
Voted number one (57%) was 'understanding which system is right for the project', with installers expressing that many suppliers provide "too many options", leaving them feeling overwhelmed when choosing the right UFH. This was particularly felt by those new to the industry.
Following that was 'transferring the underfloor heating design to laying it out on the floor', which was the challenge most felt by 28% of respondents.
The other challenges facing installers included slow turnaround of quotes from suppliers, and changes to the project which weren't detailed in the architect's plans
Steven Dunne, Managing Director at Snug Underfloor Heating, expressed why he thinks asking installers these questions is so key for the industry: "Working closely with plumbers, electricians and builders and hearing their everyday challenges is such an important step in creating smart, straightforward and hassle-free products. At Snug, all our products and services have been guided by customer feedback, and that's why we're fast becoming the installer's choice."
Commenting on the most common challenge of knowing which UFH system to pick, Mark Tiff, plumber and YouTuber, said: "This is where the technical team at Snug are great. They're just a phone call away and the friendly, knowledgeable team will talk it all through."
Snug Underfloor Heating offers an Approved Installer Scheme, providing free training sessions for those looking to expand their knowledge of underfloor heating. Covering both water and electric systems, Snug's course provides practical installation tips and advice, key considerations to take into account when choosing a system, and more.
What's more, Snug offers just six straightforward water underfloor heating systems to cover every scenario, meaning industry newcomers won't become overwhelmed by the vast range of choice out there.
Mark Tiff added: "When it comes to transferring the underfloor heating design to laying it out on the floor, it couldn't be simpler with Snug. As long as you work from the schematics they provide, then it's pretty much self-explanatory and reduces planning time too. I'd recommend sitting down with a brew and making sure you look at it all before jumping in."
The family-run supplier offers a free full design service, plus low-profile board layouts.
Steven concludes: "We have a dedicated team of technical underfloor heating experts on hand to make sure installers get the most from their Snug system — which includes finding the right one for their project, creating a customised design, and supporting them through installation and beyond. Whatever your challenge, Snug has the solution."