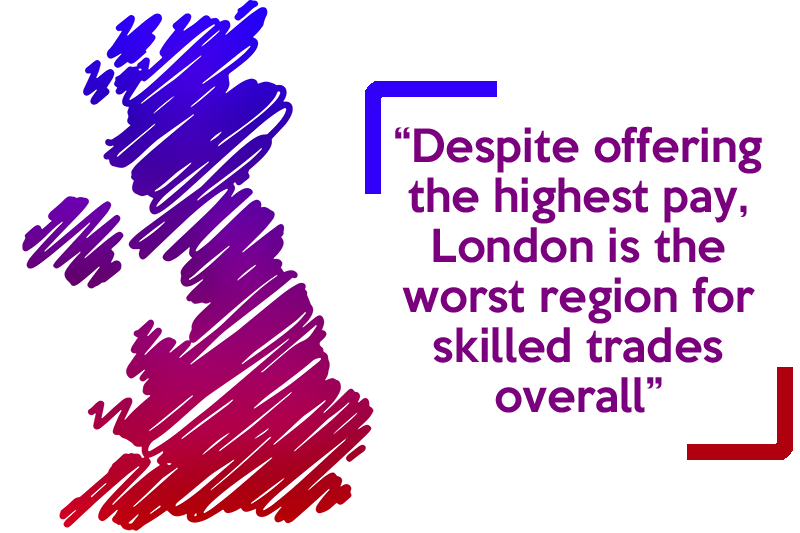 With job security and finances being top of mind in the current environment, a new study has revealed the best regions in the UK for skilled tradespeople to live and work, based on average salaries, jobs availability and the cost of living.
The most affordable region for skilled tradespeople is the West Midlands, where workers earn an average of £27,920 but the typical household spends only £25,194 to live. Therefore the region's pay/cost of living affordability metric is 1.11, the highest in the study.)
With a pay/cost of living metric of only 0.84, the South East is the least affordable for skilled trades.
The region with the most jobs per person is Scotland, where there are 15.1 skilled trade jobs per 1,000 economically active people. Scotland also ranked #1 overall as the best UK region for skilled tradespeople with the best combination of jobs availability and affordable living.
The North East ranked #2 overall in the UK as the best region for skilled trades.
Despite offering the highest pay (£36,691), London is the worst region for skilled trades overall due to the high cost of living and limited job prospects.
Top regions for construction and building trades jobs
Overall Rank
Region
Average Annual Skilled Trades Pay
Number of Skilled Trades Jobs
Average Annual Household Spending
Jobs Density Metric
Pay/Cost of Living Metric
1
Scotland
£28,270
42,000
£25,594
15.1
1.10
2
North East
£26,171
13,000
£23,790
10.2
1.10
3
Yorkshire and The Humber
£27,163
28,000
£27,087
10.4
1.00
4
South West
£27,640
29,000
£29,765
10.0
0.93
5
East Midlands
£27,830
22,000
£27,752
8.9
1.00
6
West Midlands
£27,920
23,000
£25,194
7.8
1.11
7
Wales
£26,205
11,000
£24,461
7.1
1.07
8
North West
£24,964
29,000
£26,062
8.0
0.96
9
East
£29,026
23,000
£29,635
7.1
0.98
10
South East
£28,609
32,000
£34,190
6.6
0.84
11
London
£36,691
18,000
£34,232
3.7
1.07
United Kingdom
£28,114
280,000
£29,775
8.2
0.94
The full report is available at www.nimblefins.co.uk/best-places-skilled-construction-building-trade-UK